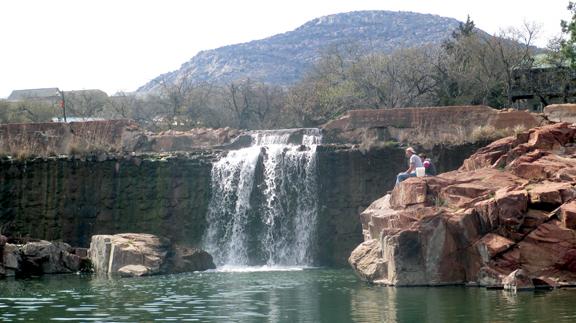 By Rhonda Shephard
Mount Scott, in the Wichita Mountains, stands Oklahoma's second tallest mountain at 2,464 feet. From the rocky promontories of mountains created 540 million years ago in the Cambrian period, a visitor views the best of the recreational opportunities in its shadow: Comanche Nation, Wichita National Wildlife Refuge, Medicine Park and Lake Lawtonka. After you visit this bird's eye view, come down and explore. The road to the top is located north of Lawton, Okla., and Ft. Sill.
Wichita National Wildlife Refuge
This national treasure founded in 1901, is the oldest and second largest refuge in the country, the area represents unique animals and plants, but it is rich in Native Americans, Spanish explorers, and American settler's history.
The 59,000-acre refuge provides more than 29,000 acres open to the public and the remainder private range for 1,200 species of plants, mammals, fish, and birds. Specifically, the Wichita National Wildlife Refuge has 240 species of birds and 50 species of mammals, according to the Wichita National Wildlife Refuge website. Visitors can also view bison, elk and Longhorn cattle at the refuge.
"The grasslands are dominated by little bluestem, with Indian grass, big bluestem, switchgrass, sideoats grama, hairy grama, and blue grama having a large percentage of the overall species composition," according to the Wichita National Wildlife Refuge website. "The forested areas are dominated by post oak, blackjack oak and eastern red cedar."
Special tours are available when arranged. Photography, wildlife viewing, birdwatching, fishing, hiking, geocaching and biking list a few of the activities found on the refuge. Rock climbing is considered some of the best among visitors in the state of Oklahoma. Hunting by lottery allow sportsman to thin the populations of elk and deer to promote healthy growths. The refuge headquarters can be reached at 580-429-3222 or via email at quinton_smith@fws.gov. The headquarters is open each day from 8 a.m. to 4:30 p.m., and is located at 32 Refuge Headquarters, Indiahoma, OK 73552.
Learn more in the August issue of OKFR!