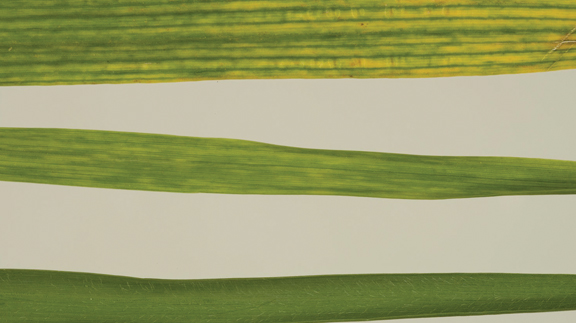 By Everett Brazil, III
Oklahoma wheat producers saw several diseases impact their crop in the 2016-2017 season, with Oklahoma State University researchers identifying four primary issues: leaf rust, stripe rust, wheat streak mosaic (WSM) and barley yellow dwarf (BYD). While some losses were recognized this past season, it is unclear how those diseases will impact the upcoming season, and OSU researchers are encouraging producers to scout their new crop to identify the diseases to protect against them.
Leaf rust and stripe rust impacted primarily Western Oklahoma, although it was found in different areas as well.
"Leaf rust and stripe rust were spread around the state. I believe Southwest Oklahoma had more stripe rust than Northern Oklahoma, where Northern Oklahoma had more leaf rust," said OSU extension state pathologist, Robert Hunger, Stillwater, Okla.
Leaf rust and stripe rust are two of several rust diseases that impact wheat in the state.
Leaf rust most commonly occurs on the leaf, but can also involve the entire plant, although it is rare for the entire plant to be involved. Symptoms include brown, round or elongated lesions on affected tissues. Like leaf rust, stripe rust can also affect the entire plant, and symptoms include small, yellow-orange lesions that ultimately form stripes, giving the disease its name.
Rust diseases have the potential to impact yields.
"In the case of rust [diseases], rust will lower yields, and lower the test weights of the wheat," Hunger said.
Pick up the August issue to learn more!