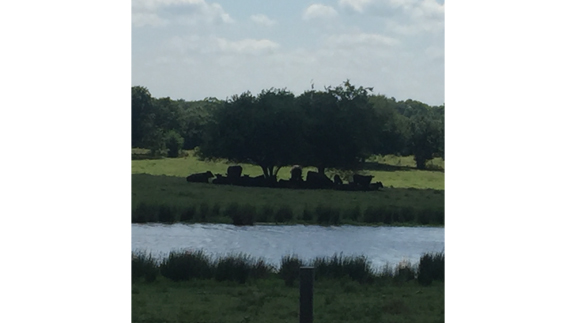 By Beth Watkins
As the stock trailer was backing in, the ladies from the pasture began to gather near the gate. You could tell excitement was in the air. They were restless. After four months of living on their own, our momma cows were relieved to smell musk in the air. Their new Romeo had arrived.
The sound of his anticipation was just exciting the girls even more. The song "Let's Get It On" was bellowing out of nowhere, as the door slid open, the stud muffin strutted out of the trailer, looked around and sniffed the air. I heard a few heifers gasp, but a couple of the older ladies looked at each other and went back to grazing. I guess they had seen his kind before.
He went straight to the highest point on the pond dam and began to serenade the ladies. You could tell by the smile on his face he was impressed as he checked out the blondes, the redheads and the brunettes. He started to mingle, introducing himself to each one with a little nudge from his nose. I could tell right away that this little dickens wasn't much for romancing.
Even though I had already picked out the name Romeo, it was clear the name "Little Jimmy" was a better fit, LJ for short, and compared to the older momma cows, he was short. I'm amazed at how peaceful the herd seems to be with all these ladies and just one man.
Pick up the latest issue to learn more.