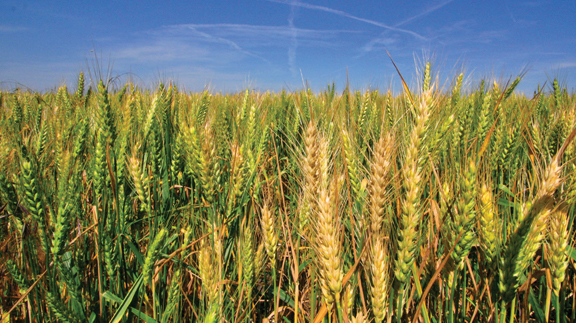 By Everett Brazil, III
Oklahoma State University small grains scientists perform much research on new and experimental grain varieties across the state each year, taking advantage of research stations as well as cooperating with producers on private fields. The results of the research are published after the season ends, and they recently announced the 2016-2017 Oklahoma Wheat Variety Performance Tests book in July.
In the trials, OSU researchers have identified the top varieties for each region of the state for the season. Out of six regions, four were on research stations, with further help from area producers. The regions include Southwest, Central, North Central, Northwest, Panhandle and East. All varieties were selected based on yield.
Much of the state experienced disease pressure during the season, and the research trials gave the scientists a look at resistance levels in the varieties.
The southwest Oklahoma research was performed at the Southwest Research and Extension Center, Altus, with private assistance in Apache and Walters. The top varieties identified were Joe, WB-Grainfield, Duster, Winterhawk and LCS Chrome.
Producers in the area battled several diseases as well as an outbreak of Hessian fly.
"This past year there was quite a bit of leaf rust, and there was stripe rust, as well," said David Marburger, OSU Small Grains Extension specialist, Stillwater, Okla. "A number of producers were also battling wheat streak mosaic."
Several varieties seemed to stand out above the rest, he said.
"Joe looks to be a very good variety overall. Duster has Hessian fly resistance, and the Hessian fly was being found in varieties susceptible to Hessian fly," he said.
The Northwest region did not use a research station, but did use growers' fields in Buffalo, Alva and Cherokee. Top varieties were WB-Grainfield, Double Stop CL Plus, Joe, LCS Chrome and Iba.
Insect and disease pressures were relatively low.
"There wasn't a ton of disease overall. There was a little bit of leaf rust," he said. "I wasn't seeing a whole lot of widespread insect issues in that area. We may have had some mite injury in January, just due to dry conditions at the time."
Moisture seemed to play the biggest role in the season. There was a lack of rain during planting, but producers could recuperate much of it during the winter.
"Despite being a rough start, the wheat germinated in the winter, and we still actually had pretty good yields, overall, despite the start," he said.
Learn more about the wheat trials in the September issue!