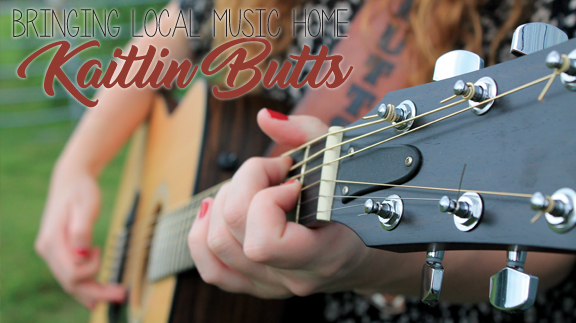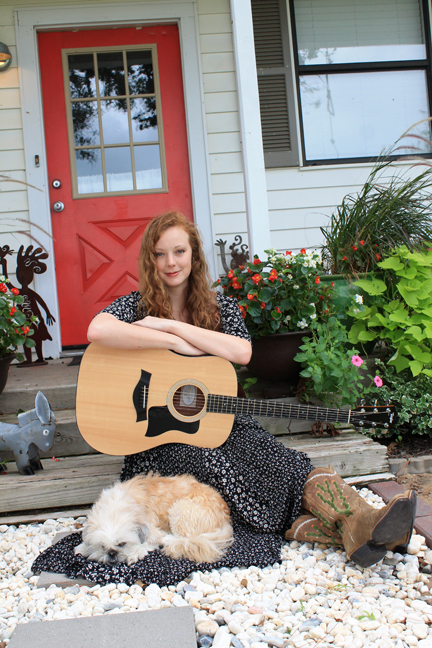 Bringing Local Music Home
By Laci Jones
The Wild Rose Ranch in Lone Grove, Okla., features dogs named after famous country singers, donkeys named after movie characters and one curly, red headed singer who found herself in the country scene after being raised in the city.
Kaitlin Butts began singing at five years old, taking classes in musical theater, tap and jazz and performing in local productions of Broadway musicals. Unlike many country artists, Butts did not grow up listening to country music. Instead, she listened to Pop and Alternative genres.
While she did not listen to much country music, Butts did listen to Shania Twain, Tim McGraw and the Dixie Chicks in the '90s. By the time she was 15 years old, Miranda Lambert and Taylor Swift were making a mark in country music.
"My neighbor just started taking guitar lessons, and I asked him to send his guitar teacher over to my house," Butts explained. "I was obsessed with all those bands and wanted to learn every one of Miranda Lambert's songs. My first lesson, he taught me 'Kerosene.' That's what got me started in country music."
Butts explored the music genre, and found many of her favorite artists did not always write their own songs, and they sometimes cover classic artists. She listened to Miranda Lambert's "The Way I Am," originally recorded by Merle Haggard.
The rendition of the classic song inspired Butts to research songwriters and began scribbling lyrics. When asked if she remembers the first song she had ever written, she laughed and said, "No, probably something about my first kiss."
Butts continued to perform at state fairs and other events, but she did not recognize the potential of having a career in the music industry without being at the top level, like Carrie Underwood and Miranda Lambert, she added.
"We don't have any local artists playing on the radio like in Texas. I mean in Texas, you're hearing a mix of nationally touring bands on the radio and then someone who's playing down the street tonight is on the radio."
Her desire to make a career in the music industry led her to attend the Academy of Contemporary Music at the University of Central Oklahoma after graduating from Union High School in 2011. At the ACM, Butts said she was one of few singers who specialized in country music. Many students at the university were in Indie Rock Bands.
"I just really wanted to play country, but bringing in that rock aspect to it and playing with good musicians expanded what I could do performance-wise," Butts said.
After receiving her associate's degree from ACM, the student talked to Reba McEntire's former guitarist for 10 years and ACM professor, Chris Hicks. She asked for Hicks' advice on pursuing a bachelor's degree.
"He said, 'Honestly, I think there are some people who need some time to grow at this school and in life. I think you're ready and need to just go for it because I think you'll learn a lot more out there actually doing it,'" the singer recalled.
Butts said she was thankful for the advice, and she began working on her first album. She drew inspiration for most of her songs from old boyfriends. The track that would also become the title of her album, "Same Hell, Different Devil," stemmed from her ex-boyfriend leaving her for a "dancer."
"I had really bad relationships and that was the grand fireworks finale," she said. "Many of the songs are about bad relationships, because it was the worst thing that happened to me at the time."
She worked with producer and owner of Boohatch studios in Ada, Okla., Mike McClure on the album.
"I hadn't recorded anything before," she explained. "He didn't make me feel incompetent or like a new person on the scene. That's what I appreciated because there can be some condescending folks in this industry who can make you feel small. He didn't and that was a breath of fresh air."
She walked in the eclectic studio with her guitar and said, "How and where do we start?" He said, "Well, let's hear your songs." The songwriter played her songs, and together they figured out tempos and laid down the tracks.
One of the tracks on the album was a cover of "God's Going to Cut You Down," which was also covered by Johnny Cash. While she particularly liked the Johnny Cash version of the powerful song, she made the cover her own by speeding up the tempo.
The music artist released "Same Hell, Different Devil" in February 2015. She continued to perform at local shows in Oklahoma City, where she caught audiences' attention with her cover songs including Destiny's Child's "Say My Name." The singer said the unexpected tracks caught people's attention. She also entertained audiences with a few original tracks off her newly released album.
One day, someone called to tell the singer her song was playing on "The Ranch" in Fort Worth, Texas. Shortly after hearing her first song on the radio, Butts was offered to perform at the North Texas Fair & Rodeo in Denton, Texas. Other artist headlining were Courtney Patton and Erick Willis, who were performing original songs, inspiring the singer to follow suit.
"I started playing 'Wild Rose.' People were singing along, and that had never happened before," she said. "My mom and aunt were in the audience crying. It was the most bizarre experience because I didn't think anyone knew my songs."
Pick up the October issue of OKFR to learn more about Kaitlin Butts!