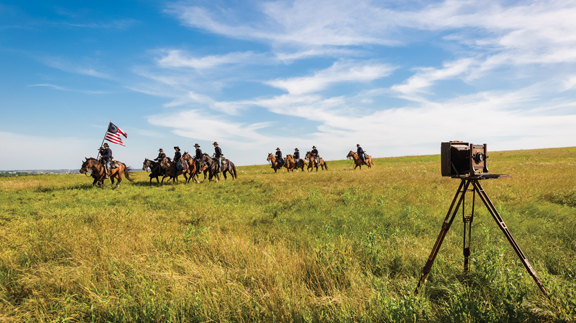 By Laci Jones
Before modern-day agriculture, the Chickasaw Nation was among the many Oklahoma Indian Nations who considered their agricultural practices a part of their heritage as well as crucial to their survival. Agricultural practices are among the many cultural traditions that the Chickasaw Nation hopes to pass down to future generations.
"Farming and agriculture has always been an important aspect of Chickasaw culture," said Chickasaw Nation Governor Bill Anoatubby. "Ranching became important to the Chickasaw people when we came to live in Indian Territory, which is now Oklahoma."
After the Chickasaws left their homeland east of the Mississippi on July 4, 1837, they relocated in Indian Territory, present-day Oklahoma. There, the Chickasaw Nation rebuilt their community—homes, farms, businesses, churches and schools.
"Despite numerous challenges and occasional setbacks, our Chickasaw people continued to create new ways to protect and manage the new lands and water and to protect wildlife and natural resources," according to Tony Choate, Chickasaw Nation Media Relations executive officer. "Infrastructure sprang up out of the land, connecting towns and creating new roads. Industry and commerce became a way of life."
Nearly 20 years after their removal, the Chickasaw Nation developed their own constitution in 1856 —a successful constitution, said Jeanie Barbour, Chickasaw Nation creative development director. The constitution was established at Good Spring, now Tishomingo, Okla., where they established their own territory. Rather than selecting a chief, the Chickasaw Nation chose a governor to serve as the "supreme executive power."
"Once we had a government, we had families that set up homesteads and we started to build infrastructure," added Barbour. "Post offices came into play and we had law enforcement."
While it was a long process, the Chickasaw Nation was successful in re-establishing their nation in Indian Territory, Barbour explained. When the Civil War erupted, the Chickasaw Nation sided with the South due to family and economic connections, she added.
"I think there were maybe 500 Chickasaws who became refugees because they fought with the North," Barbour said. "For the most part, we supported the South, and after the Civil War we paid for that collusion with the South. That led into the dissolution, eventually, of the tribal government as we knew it."
The Chickasaw families continued to practice Chickasaw culture and spoke the language, a tradition that continues among some members today.
Pick up the September issue to learn more!