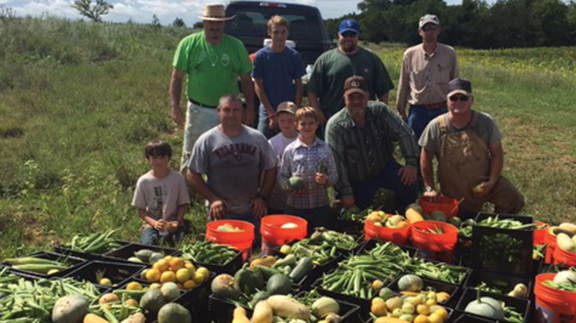 Feeding our Soil & our Neighbors
By Sarah Blaney
On a hot, humid August morning, nine volunteers gathered at a four and one-half acre field in Dewey County, Okla. The volunteers picked Lebanese squash, lemon cucumbers, zucchini, green beans, peas, okra, turnips and collard greens for hours. By the time the sun was midway in the sky, they harvested more than 1,500 pounds of vegetables. By nightfall, the produce would be on the tables of hungry seniors in nearby Vici, Okla.
Two producers were bouncing ideas off of each other about cover crop rotations, no doubt trying to outdo each other, when they came up with a new idea – using edible cover crops as part of a soil health system.
The two producers happened to be Trey Lam, executive director of the Conservation Commission and Jimmy Emmons, president of the Oklahoma Association of Conservation Districts. The two came up with the idea of substituting non-edible cover crops with edible cover crops and allowing the local food banks to glean the produce. The two enlisted the help of USDA-NRCS State Conservationist and friend, Gary O'Neill, and the Farm to Food Bank idea was born.
The Farm to Food Bank pilot project is dedicated to fighting hunger while conserving natural resources. The project utilizes proven conservation practices, such as no-till and a diverse crop rotation system, to improve the health of the soil while growing much needed fresh vegetables for hungry Oklahomans. Legumes, such as peas, provide a natural source of nitrogen while the deep tap roots of okra and turnips help mitigate soil compaction.
Vining plants, such as gourds, provide the soil with shade and help block weeds, and the entire system together creates greater pore space in the soil that allows for improved water infiltration while providing the soil with a cover, reducing erosion.
"Oklahoma has long history of solving conservation issues through voluntary, locally led solutions by private land owners," Emmons said. "We thought what if we took that spirit of voluntary, locally led solutions and applied it using the soil health movement to help reduce hunger in our communities."
Read the October issue to learn more!