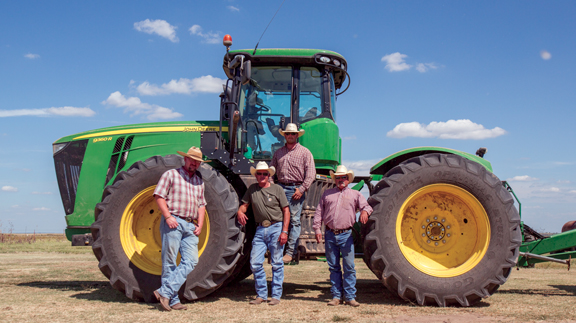 By Judy Wade
Stretching from Love County in the southeast to Stephens County on the northwest, Howard Ranches spans almost 30 miles, as the crow flies. It encompasses about 18,500 acres, bordering Highway 70 on both the north and south between Ringling and Waurika, Okla. Operating since 1888, some things change, and some things stay the same. Following the work ethic and ranching traditions laid down by Noah, Wilton, and Don Howard, today, the fourth and fifth generations operate Howard Ranches headquartered in Claypool, Okla. However, many things are different today.
In 2006, Don Howard's daughters Kay and Dona sold their interests in the cattle and equipment and leased their part of the land to brothers Jimmy and Steve—who formed the partnership, Howard Ranches, Inc.—with each of the four retaining a one-quarter interest in Howard Cattle Company, a corporation.
Kay, an insurance agent, and husband Mike Moore, a retired pharmacist, live on acreage acquired from the ranch three miles south of Ringling and enjoy their children and grandchildren.
Dona and husband Mike Brooks once lived on the Claypool ranch but now reside in Plainview, Okla., where they, too, concentrate on their children and grandchildren.
In 2014 the fourth generation of Howard men was joined by the fifth generation when Steve's son Kade and Jimmy's son-in-law T.J. Neble became partners with Jimmy and Steve in what they call Quatro Cattle Company, which owns land apart from Howard Ranches.
Howard Ranches continues to operate a cow/calf herd as well as yearlings on wheat pasture. Using their own cattle trucks, Jim and Steve carry on Don Howard's practices of sending some of their yearlings to the feedyard in Dumas, Texas, another diverse investment in which they partner.
"We sell some of our feeder cattle right off the ranch now," Steve said. "We represent ourselves through Superior Livestock, a video internet sale. Dad, though, favored sending all of the ranch cattle to the feedlot," he continued.
Howard Ranches farms about 3,500 acres of wheat each year, and like Don, they incorporate innovative ideas such as combining turnip seed and oats with the wheat seed to help to diversify the grazing. They also practice no-till farming on about 1,300 acres. Tractors with GPS are not new to the industry but are fairly new to the Howards.
"I am glad we have employees who know how to use the GPS because I have no idea," Jimmy laughed.
With the convenience of modern technology, cell phones and 4-wheelers have changed ranch operations. "Mom had to stay at home every day and man the radio base station in the house. We had radios in all our vehicles. It is a lot easier these days with cell phones. And fewer horses are needed with the inclusion of four-wheelers, which are more practical when cattle need to be checked in a hurry.
Read the October issue to learn more!