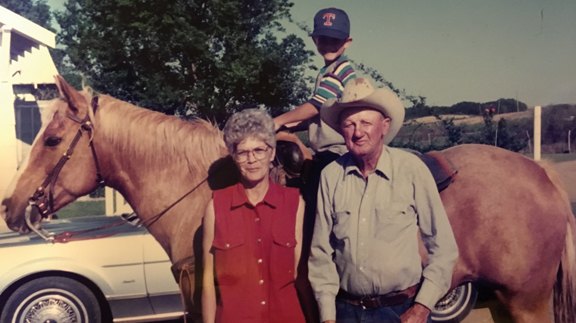 By Lanna Mills
As ranch wives, we often seek advice from our own mothers, friends and even mothers-in-law. This is no different in my case, as my mother-in-law Aliene Mills was one of my closest and dearest friends. I saw her on a daily basis and we could talk for hours.
Aliene died unexpectedly after being diagnosed with cancer. She was an extraordinary woman and everyone who knew her would agree. I am constantly stopped by someone in the grocery store, the post office and other places around town and told how sad it was to hear of her passing and what a great lady she was. She was truly one of a kind. In her 75 years, she did a lot of living and a lot of laughing.
Aliene was born in 1942, when times were much different than they are now. Can you imagine a gallon of gas costing 15 cents, soda pop costing five cents or a new house costing on average less than $5,000?
I have heard many stories of her childhood, growing up in Kelton, Texas, with her seven sisters and one brother. She told stories of working in the cotton patch as a young child, riding in a wagon and learning to sew from her mother. At 18 years old, she married her first husband and raised two children. When she was in her 40s, she married for a second time and together they had my husband Gary. They raised him and worked the same ranch we have today.
Work, that is one thing that Aliene, or Mrs. Mills as most called her, was not afraid of. She was one of the hardest working individuals I have ever known. Though she could have stayed home, that was not her thing; she enjoyed working. She spent time working in a nursing home, a factory, a grocery store and her most favorite and longest career was working at Erick Elementary School as the librarian. At times she worked two jobs. After school let out, she would work at the grocery store. Working 12 hour days was not common for most women in their 70s.
Aliene loved children. She knew each child— what they liked to do, their home lives and she knew their favorite candy, which she always had and gave out to all the kids. The kids at school called her Momma Mills. She earned that title by being there for them, listening to their needs and always lending a helping hand. She was sure to make every child feel loved and cared for. My son Stockton and she were best buddies. They spent countless hours playing outside and playing "cows."
Read the October issue to learn more!