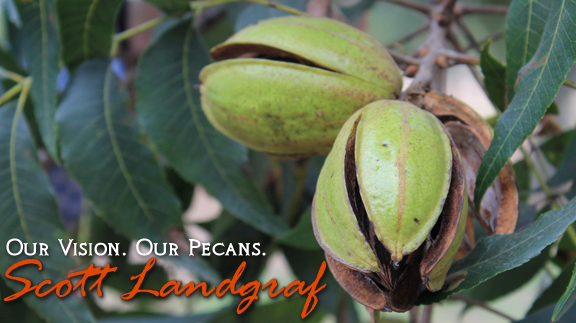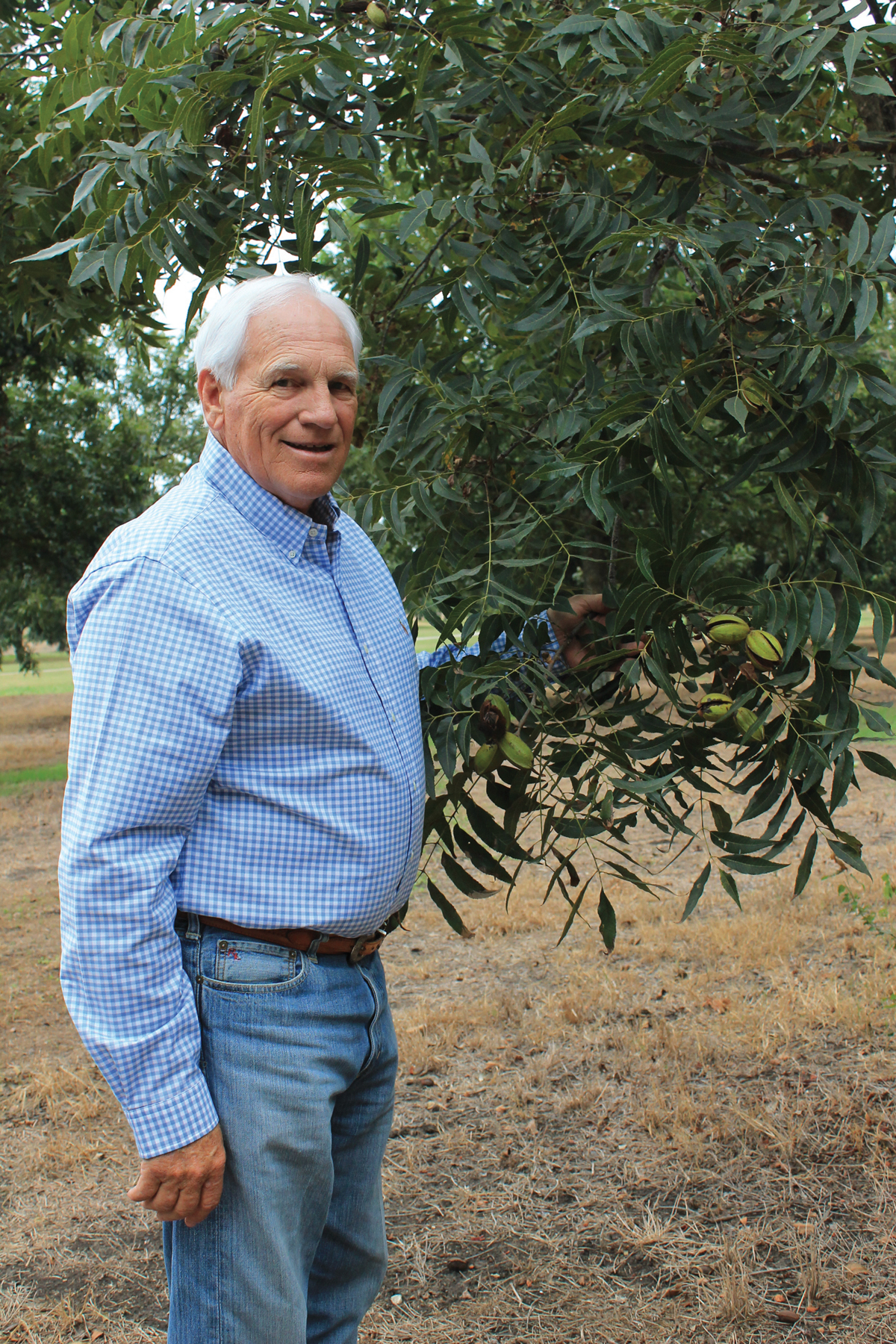 Our Vision. Our Pecans.
By Laci Jones
On a cloudy, late September morning in Madill, Okla., Scott Landgraf picked a pecan off the ground and pulled out a small pocket knife. The owner of Landgraf Farms began carving away the shell, leaving two pecan halves. Once he finished splitting the pecan, he looked up and said, "This is a lost art."
Oklahoma produces an average of 20 million pecans each year, Landgraf explained. This year, Oklahoma is predicted to harvest 30 million pounds of pecans.
"The largest crop that's been reported in history is 60 million from Oklahoma," he added. "I don't know how this crop is going to come out, but it may be more than 30 million this year. It's really a pretty good crop."
Born in 1948, Landgraf saw firsthand the advancements in pecan harvesting, sanitization and shipping. Growing up, his father Bill Landgraf harvested native pecan trees that grew along the creeks.
"My interest in pecans stemmed from the first real money I ever made by picking pecans up out of the water in the creek," Landgraf recalled. "It was very hard work, but I look back on it as favorable memories."
The father-son duo climbed many native pecan trees and used cane poles to flail the pecans. The pecans that landed on the bank were his dad's, and Landgraf claimed the pecans that he could clean out of the creek, he added.
"My family saw pecans as an opportunistic crop," Landgraf said of his parents. "It was not a crop per se. It was just something that enabled them to have extra things for what we think as today as just bare necessities."
In the early to mid- '60s, Bill began seeing pecans as orchards. He cleared bottomland and started grafting the pecan trees to varieties available—Stuart and Mahan. Bill later began experimenting with different pecan varieties in the '70s. While some pecan varieties fared better than others, Bill had a successful harvest. His wife Leota took the first step in marketing Landgraf Farms by selling pecans out of their carport.
Meanwhile, Scott Landgraf attended Murray State College in Tishomingo, Okla., where he met his wife Janice. A year behind Landgraf in college, she followed the Madill, Okla., native to Oklahoma State University, where she received a bachelor's degree in education. They married in 1971.
While pursuing a master's degree in agronomy from OSU, Landgraf began working for the Noble Foundation. Landgraf obtained his master's degree in 1973 and began his career spanning 30 years with the foundation now known as the Noble Research Institute. Landgraf first worked as a manager of their soil and forage testing laboratory. As time progressed, the manager became an agricultural consultant.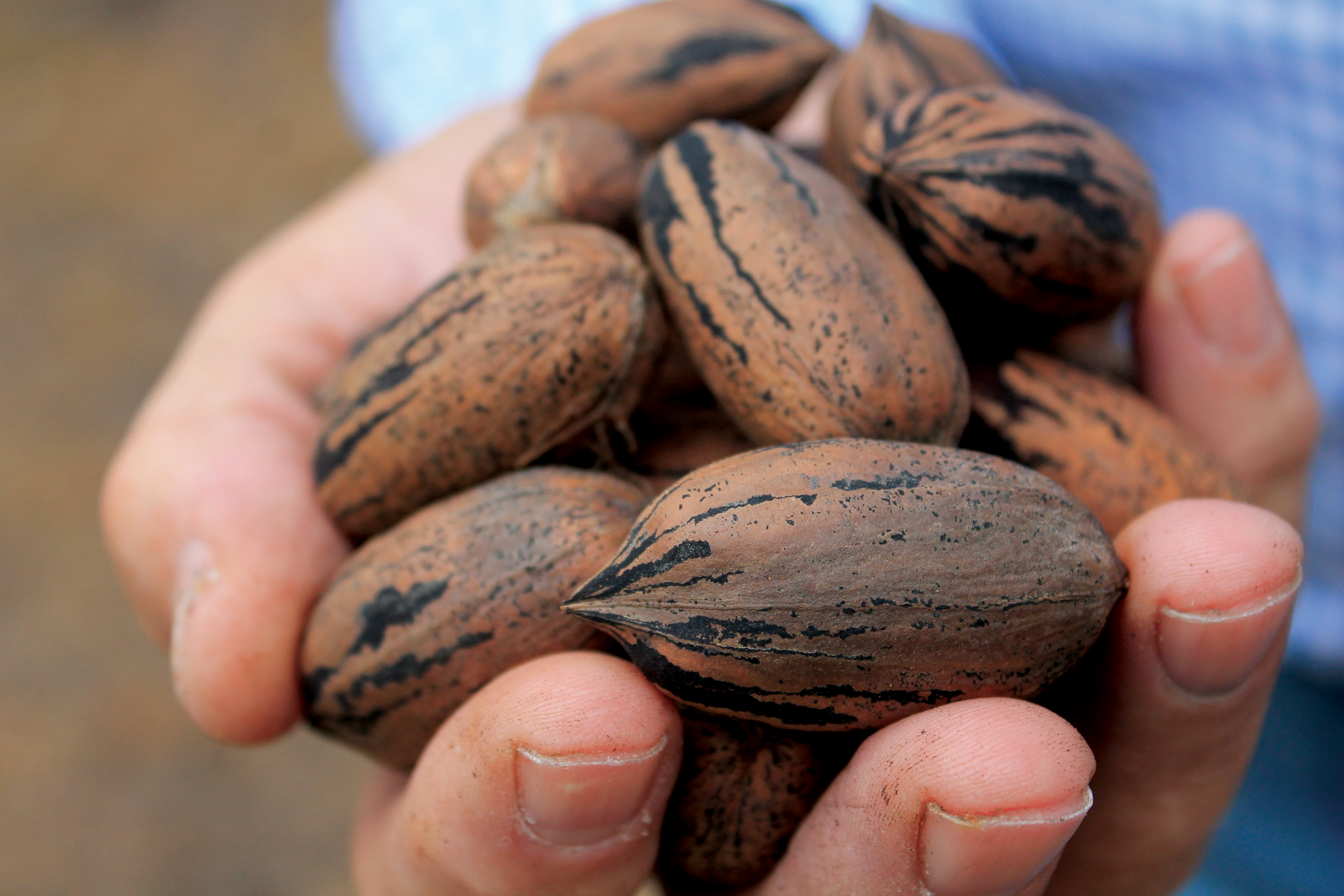 "As time went on, they recognized my interest in pecans," Landgraf explained. "I continued to do a lot of work in water and nutrition associated with pecan production and towards the end of my tenure with the Noble Foundation, I was their pecan specialist. My years at Noble have provided me an amazing education into the process of growing pecans."
At 55 years old, the pecan specialist retired from the Noble Foundation to focus on the family farm. He started his pecan orchard in 1976, planting 250 pecan trees out of sight.
"I planted them back where nobody could see them because I didn't know if it was going to work or not," Landgraf laughed. "I was afraid of everyone seeing my failure."
The planting was successful with only about three trees dying that season. Landgraf said the first season proved the pecan business takes labor and commitment. From planting to harvest, pecan production became a family endeavor.
"In fact, we had a baby at the time, and we set a playpen in the middle of planting trees," Landgraf recalled. "We basically planted trees around the baby."
That commitment was tested in June 1996 when a thunderstorm uprooted nearly every native pecan tree to the east of the farm. While orchards were also located on the west side of the farm, Landgraf said the storm demolished one of their main sources of income and involvement in pecans.
"It was a matter of just pushing them up in a pile and burning them," he added. "There was no recovery."
The setback resulted in a family meeting to discuss the future of Landgraf Farms.
"I remember very vividly setting the family around the table to say, "Hey, are we going to go ahead and rebuild this or are we going to just stay at this size?" he recalled.
It was a unanimous decision among the Landgraf family to rebuild the orchard. They cleaned up all the debris from the storm, drilled wells and installed irrigation lines. With a large tree spade, they moved half of the trees on the west side of the farm to the east.
Many people commented on the project, thinking the Landgraf's were building a large barn.
"When I got ready to transplant the trees, I cut all side limbs off and painted the trunks white," Landgraf explained. "When they looked up here, it did look like the start of a barn with just a pole sticking up."
The project could be viewed from the Landgraf's back window. His wife Janice said the trees looked like a cemetery with the trees resembling tombstones. She asked Landgraf if it will ever look like a pecan orchard, he recalled with a laugh.
Learn more about Landgraf Farms in the November issue!