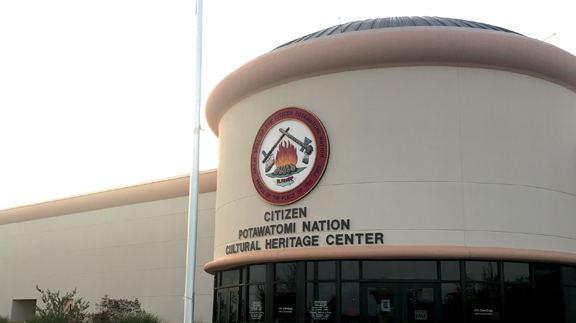 By Laci Jones
As one of the seven Potawatomi tribes in the United States, the Citizen Potawatomi Nation, stays true to the heritage of the Potawatomi—meaning "keepers of the fire."
"We are specifically the Citizen Potawatomi Nation because in 1861, we signed a treaty that moved us in the direction of becoming U.S. citizens and private landowners that differentiated us from our Prairie Potawatomi cousins who were on the same reservation as ourselves," said Kelli Mosteller, director of the Citizen Potawatomi Nation Cultural Heritage Center.
Prior to moving to Indian Territory in the 19th century, the Citizen Potawatomi Nation made their home in the Great Lakes region of the United States. They were forcefully removed from this region in 1838, known as the Potawatomi Trail of Death, she added.
"In 1846 we moved from central Kansas to a new reservation on the Kansas River, near present-day Topeka," Mosteller explained.
The Citizen Potawatomi Nation purchased the reservation in Indian Territory in 1867, but they did not begin the relocation process until 1872. The nation's third removal was funded by the tribe.
"For the first few decades it was sort of a slow matriculation of tribal members from Kansas to Indian Territory as they could fund the removal," Mosteller explained. "As their family members came down here, they would maybe get a plot of land under cultivation and get themselves established.
The first families of the Citizen Potawatomi Nation who moved to the Indian Territory settled in the center of Pottawatomie County, close to present-day Wanette, Okla. The area was referred to as Pleasant Prairie. The first few decades after their third relocation was "a struggle" for the Citizen Potawatomi tribe, she explained.
"We were still in Indian Territory, where there was not a lot of law enforcement present," the director added. "The criminal jurisdiction was out of Little Rock, Ark., so we had a lot of outlaws and crime violence that was enacted onto the native people in that area."
By the late 1880s, a majority of the tribal members who were going to relocate had already established themselves in Indian Territory. The Citizen Potawatomi tribe had some involvement in the agricultural industry prior to the Civil War, but it was seasonal. When the nation moved to Kansas, the goal of the assimilation policy was to have land under cultivation.
Pick up the October issue to learn more!