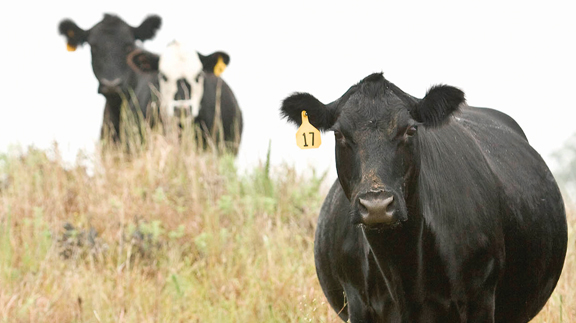 A guide to marketing spring-born calves
By Laci Jones
As the fall and winter seasons approach, cattle producers need to make the ultimate decision on whether to market calves now or later. Myriah Johnson, Noble Research Institute ag economist, tackled four marketing options for spring-born calves at the annual fall cattle seminar at the Ardmore Convention Center in late August.
"The first [option] is to strip and sell— take those calves, peeling off their mamas and take them to the sale barn. The second would be to pre-condition them. The third would be to pre-condition them and then put them out on winter pasture until March. Last is to pre-condition and then put them out on winter pasture all the way through graze out."
In the strip and sell option, Johnson assumed the calves would weigh 500 pounds in October 2017. During the August seminar, Johnson predicted the first option would bring a total value of $820 per head.
If the cattle producer decides to pre-condition the calves to 600 pounds in December 2017, the estimated price for December at the seminar was nearly $1.56 per hundredweight. The total value for the second option of pre-conditioning the calves to sell in December 2017 is $935 per head.
"That is $935 compared to that $820 we could have gotten in October," Johnson added. "If we put that on a per pound basis, that gives us a valued gain of $1.16 from October into December."
Johnson said the valued gain is a good number for producers to compare with their own cost of gain to determine their profit potential.
The third option is phasing the cattle out until March 2018—assuming the cattle weigh 800 pounds when removed from winter pasture, Johnson said. The cattle would bring a total value of a little more than $1,000 per head with a valued gain of 75 cents from October 2017. Johnson noted this is a decreased value of gain from the second option of selling in December 2017.
Pick up the October issue to learn more!