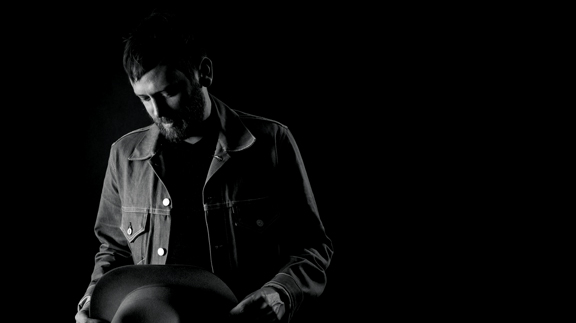 Looking Up Ahead
By Jan Sikes
"Ask me where I'm going and I won't tell a lie…" is a line from one of Travis Linville's new songs on his latest CD, Up Ahead.
So, where is Oklahoma native, Linville going? He had a candid answer to the question. "If I knew, then I'd be able to tell you where I'm going," he said with a chuckle. "But, I'd be lying if I told you I did."
A gifted instrumentalist, Linville learned early in life he had a God-given talent. He is proficient on guitar, pedal steel, mandolin, banjo and dobro and has taught some of the finest musicians in the state, including Parker Millsap, who was featured in a previous issue of OKFR.
But, Linville is not just an instrumentalist. He's been writing songs and performing for well over two decades in a career that included an appearance on The Tonight Show as a member of Hayes Carll's band.
I asked Linville to tell me one turning point in his lengthy career.
"That's a tough question," Linville admits. "I'll give you a short version of how my music career got started. As a kid, I took guitar lessons from jazz guitarist, Joe Settlemire, in Dell City, and from there, I started working in cover bands. When I was twenty-one, a friend offered me the opportunity to go play with Claude Gray. He was one of those sixties crooner country guys who had several hits. So, what happened was that Claude got invited to play at Willie Nelson's Fourth of July Picnic in Luckenbach, Texas. While we were playing our set, Willie walked out on stage and played a song with us. That particular moment, playing on stage with a legend like Willie Nelson, turned things around for me. Just being there, being a part of a show with a lot of my musical heroes gave me a feel for where I wanted to go and what I really wanted to do. It motivated me. I went home and started writing songs."
And that brings us to the present and a new CD full of those songs.
"I started making albums back in 1999," Linville said, "but this new album is the first to gain national attention. It's a combination of all my years of playing, traveling, writing and making records. As far as I'm concerned, I hope every album I make keeps getting better and better and closer to what I'm trying to do at that moment."
And what Linville is doing at this moment is sharing stories with meaning put to complex and yet sometimes simplistic music.
Up Ahead blends genres. I found folk, Americana, jazz, country, and blues overlapping. The common thread running throughout is Linville's own signature style and multi-dimensional lyrics.
The title song, "Up Ahead," carries a universal message.
Read the latest issue to learn more!