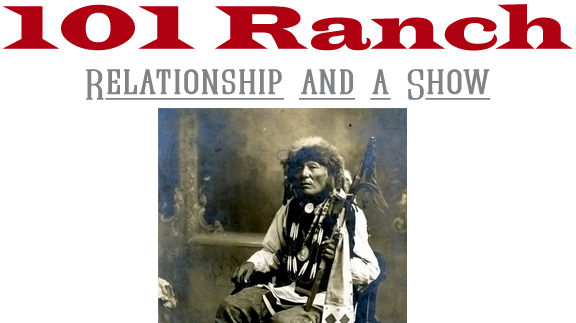 By Laci Jones
In the mid-19th century, the Miller family developed a lasting friendship with the Ponca Indian tribe in Baxter Springs, Kan. The relationship between this nation and the Miller family would continue until their deaths.
G.W. Miller's oldest living son, Joseph Miller was as fluent in the Ponca language as a full-blood Ponca Indian, wrote Ellsworth Collings in "The 101 Ranch." As a young boy, Joe often accompanied his father to meet with White Eagle to advise him on tribal affairs, according to Michael Wallis in "The Real Wild West."
During the time the Miller family leased two large pastures in the Cherokee Strip in 1879, the U.S. government was attempting to compensate the Ponca Indians for taking their land by securing a patch of land from the Cherokee Nation, added Wallis.
The Ponca Indians were temporarily residing on Quapaw lands near Baxter Springs, Kan. The Ponca Indian chief, White Eagle, was not fond of the move as many members of the tribe succumbed to sickness and even death on the Quapaw lands.
The Millers found the land secured for the Ponca Indian tribe, which impressed G.W. He found the land suitable for the Ponca Indian tribe.
"From his explanation, Miller was satisfied that if White Eagle would visit the country he would accept the offer of the government and that after the natural homesickness of the Indians had been overcome, they would find health and happiness in their new home," Collings wrote.
Chief White Eagle wished to return to their former home near Omaha, Neb. The chief made plans to visit with officials in Washington, D.C., to convince them to let the tribe return home. Before Chief White Eagle left for the nation's capital, G.W. sent Joe to the Ponca campsite as his messenger.
Pick up the November issue to learn more!