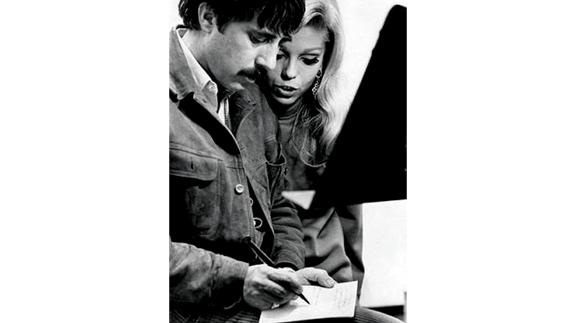 Hit Songwriters
By Jan Sikes
We all recognize songs made famous by the artists who sing them, but what about the songwriters, who are often behind the scenes? A good example of this is Merle Haggard's mega-hit song, "The Way I Am." Many people think he wrote the song. And while Haggard did write a good many of his own hits, that particular song was written by Sonny Throckmorton. That's just one example.
A good many artists today write their own material and record it almost exclusively. But, there are other top-name performers who do not write at all and are always looking for their next big hit from songwriters' catalogues.
I want to introduce you to some phenomenal Oklahoma-born songwriters. While you might not have heard of these writers, you will instantly recognize their songs.
Dallas Frazier was born in Spiro, Okla., in 1939 and is still alive and well in Tennessee. He is well-respected by recording artists and other songwriters alike. Frazier has quite a story. He states that his family was in the "Grapes of Wrath" migration from Oklahoma to California. The '40s were tough for his family. They worked cotton fields and lived in labor camps.
He entered a singing contest sponsored by Ferlin Husky when he was only twelve and won. Mr. Husky wound up hiring Frazier to work for him. At the age of fourteen, Frazier signed with Capitol Records.
Throughout the years, Frazier has written hundreds of songs, leaving an indelible mark on the music industry. He is responsible for such huge hits as "Alley Oop," "There Goes my Everything," "Elvira," "Mohair Sam," "Son of a Hickory Hollow Tramp," and hundreds more. He was inducted into the Nashville Songwriter's Association International Hall of Fame in 1976. Another tidbit of fact about Frazier is that Elvis Presley recorded five of his songs during his career.
With a long and successful career, Frazier said in a 2012 interview, "A guy doesn't do this just all on his own. You get breaks here and there and a lot of people gave me a helping hand in the business down through the years."
I think that sums it up quite well. Frazier went into the ministry and pastored a church in Tennessee for many years. Now he considers himself retired.
Jimmy Webb is known as "America's songwriter" and established worldwide recognition as a master of his trade. Born in 1946 in Elk City, Okla., he is the only artist to have ever received Grammy Awards for music, lyrics and orchestration. The first commercial recording of a Webb song was "My Christmas Tree" by The Supremes in 1965.
The following year, Webb met singer and producer, Johnny Rivers and recorded "By the Time I Get to Phoenix," which became a mega-hit for Glen Campbell. You might recognize a few of his other hits, such as, "Up, Up And Away," "Wichita Lineman," "MacArthur Park," (which garnered a Grammy for Waylon Jennings), "The Highwayman," "Galveston," and "The Worst That Could Happen." His songs have been recorded by artists from The Fifth Dimension to Glen Campbell and Waylon Jennings to Kanye West.
Webb was inducted into the Songwriter's Hall of Fame in 1986, The Nashville Songwriter's Hall of Fame in 1990 and received the National Academy of Songwriters Lifetime Achievement Award in 1993. According to BMI, Webb's song, "By the Time I Get to Phoenix," was the most performed song in the 50 years between 1940 and 1990. Webb has written what is referred to as a musician's bible, Tunesmith – Inside the Art of Songwriting. But, more recently, he released a memoir entitled The Cake and the Rain, where he tells the stories behind the songs.
Pick up the November issue to learn more!