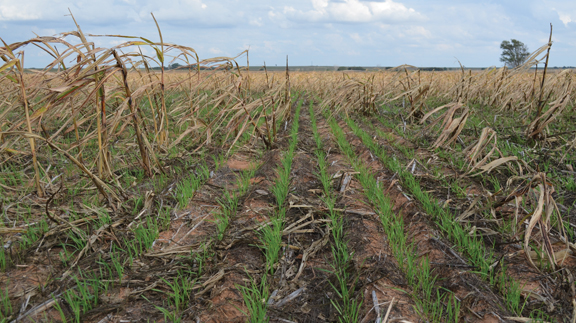 By Everett Brazil, III
Jeff Dill gazes across a field bordering the Texas state line northwest of Hollis, Okla. A new wheat crop breaks through the ground amid a sea of decomposing plants, a combination of haygrazer, soybeans, cowpeas, sunflowers and okra. The plants were sown in early summer, serving as a cover crop to protect the soil between seasons. He marvels at the amount of wildlife that has fed off the field throughout the summer.
"Every time I was out here this year, there have been deer, there have been quail, there have been dove and there's been at least one hog that I've see," Dill said. "Normally, in the summertime, when it's bare, you won't see a bunch of wildlife on a field like this."
Dill and his father, Bill Dill, both of Hollis, planted cover crops for a second year as a way to help protect the soil between crops. They are only one of a number of farms across the state that have seen the benefits they provide to the soil.
"The increased organic matter, increased soil health, the life in the soil – earthworms. All that is supposed to be increased when you have [a crop] year-round, and it conserves moisture, if managed properly," he said.
A cover crop is a plant that is sown between seasons to conserve soil health until the next crop is planted, as opposed to allowing fields to lay fallow, which leaves the field vulnerable to environmental risks, especially erosion from wind and water. Planting a cover crop helps hold that soil in place and also helps increase nutrient content in the soil.
"By leaving the cover crop in the field, you are returning nutrients and organic matter to the soil and feeding the soil biology," said Melissa Teague, USDA-Natural Resources Conservation Service (NRCS) field conservationist, Harmon County. "It can also aid in nutrient cycling."
There are a variety of crops that can be planted, depending on what the producer is attempting to accomplish. That can include plants with deep taproots, like turnips, which break up compaction, or legumes that fertilize the soil through nitrogen fixation.
"Other plants are useful for mining phosphorous from the subsoil, and make it available to crops," Teague said.
Adopting cover crops is a learning experience for producers who choose to take advantage of the system, as it can lead to learning new management practices and also could increase expenses.
"Conventional wheat drills don't do as good of a job of penetrating that harder soil that had a cover crop on it, so in certain experiences, a no-till drill works better, which, if you don't have one, that is an additional expense," Dill said. "You've got to manage how much biomass you grow, so you can't plant too much and you can't let it grow too long or you'll get too much biomass."
Cover crops are typically terminated prior to planting the main crop. Harvesting the crop reduces the amount of organic matter available in the soil. It can be grazed, however.
"Cover crops can be grazed in a carefully-planted grazing system. The incorporation of livestock helps speed up nutrient cycling and other soil-building processes," Teague said.
Producers who are interested in integrating cover crops into a crop rotation can receive cost-share assistance from the NRCS Environmental Quality Incentives Program (EQIP), which can also help the producers design a proper mix for the field, Teague said. For more information, contact the NRCS County Office.
As for the Dill Family, it is too early to see the benefits, but they are optimistic that they are greatly increasing the health of the soil, all through keeping plants in the ground.
"You have to put out more fertilizer when you plant, but throughout the year, you should see more fertilization as it decomposes," he said.