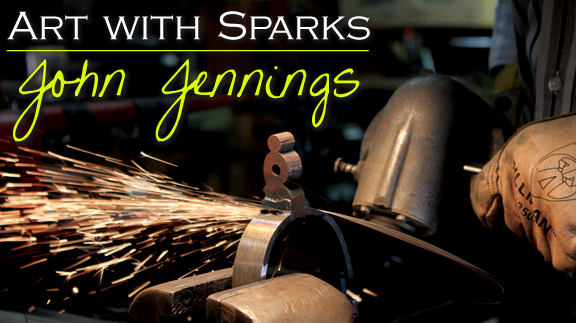 By Laci Jones
Raised under the city lights of California, John Jennings is not your typical Californian. Born in El Centro, Calif., Jennings considered himself a "redneck," spending many days hunting and fishing on the many California golf courses in Palm Springs, Calif.
"I would get kicked out of golf courses," he said followed by a chuckle. "The security guards would run us off, and we would go to a different one."
He was always "tinkering" with knives, guns and other items. Jennings recalled using circular saws as a child, saying it was "second nature." At 17 years old, he dropped out of high school and began working full-time. Like his father, Jennings worked in construction.
"I was making $500 per week 30 years ago, which was pretty good money," Jennings explained. "I moved out to my own apartment and just started doing my thing. Looking back, I wish I had gone to school because my son's going to Oklahoma Baptist University, and he's got so many opportunities."
Jennings "bounced around" from job to job, never working at the same place for more than 18 months. His career took a backseat when he was diagnosed with Idiopathic thrombocytopenic purpura in his mid-20s. ITP is an auto-immune disease where the immune system sees blood platelets as foreign object.
"We were fixing to deer hunt out in the desert," Jennings began. "I had these big ole bruises, and I didn't think much of it."
Jennings chalked the bruises up to clumsiness, but his wife suggested he visit the doctor to be sure. After his results came in, his doctor told him he needed to stay home, but Jennings was in denial.
"I felt 100 percent perfect. There's nothing wrong with me," he said. "I said, 'No, I'm going deer hunting.'" They said, "Well, go ahead, but even a jar against a seatbelt could kill you."
Jennings underwent many surgeries and chemotherapy treatments as well as took a daily concoction of pills to cure ITP. One chemotherapy treatment increased his appetite, causing his weight to rise to 250 pounds.
"I did this for like three years, and it finally just went away," Jennings added. "By the grace of God, it went away."
The southern California native said the experience changed his outlook on life. Ten years ago, Jennings and his family moved to Shawnee, Okla. He said the expense, traffic, regulations and the mounting doctor bills as well as his parents' influenced his decision to relocate to the Sooner state.
"My parents wanted out of California 30 years ago, so they headed east on I-40 to look around," he explained. "They originally were going to look in Arkansas, but they got stuck in a hail storm in Shawnee and stayed the night."
Jennings said he lived in Shawnee, Okla., when he was eight years old, but moved back to California following the oil crash in the '80s. His parents later retired in Oklahoma.
"When I was kind of fed up with California too, my mom called and said, "There's this really cute little house right across the street," Jennings recalled. "It was a dump. My wife cried when she first saw it."
Moving to Pottawatomie County allowed the California native to meet Bill Madole, a local bit and spur maker and neighbor of the Jennings family. Madole owned the land adjacent to Jennings, which overlooked the North Canadian River.
"[Madole] owns three corners of this river," Jennings explained. "Once I found that out, I thought, "Man, I would like to hunt that."
Jennings worked out a trade with the landowner for hunting privileges. The construction worker completed projects like fixing Madole's roof or installing a new door. Jennings began watching Madole work and thought it would be "cool to try."
Jennings was quickly discouraged once the talented blacksmith told him how much the equipment cost. After, he didn't give spur making as a side-business another thought. Then things changed. Four years ago Madole was preparing to leave for the National Finals Rodeo where he had a booth.
"I said, 'I'll help you get ready for the NFR, and you show me how to make spurs,'" Jennings recalled. "He was sitting there, engraving while we were talking, and he said, 'okay.'"
The apprentice was tasked with filing spur rowels, which he described as "monotonous" tasks. He continued to learn from the expert, copying his style of spur making.
"We do what is called 'Texas-style spurs,'" Jennings explained. "The Texas-style is a bit more utilitarian than the Mexican or California-style spurs."
The Mexican and California-style spurs are more ornate with more silverwork, and they have a larger rowel than the Texas-style, he added. The Texas-style is more subdued. Jennings said he did not experiment with other styles, contributing most of his influence from his teacher.
"I rely heavily on his style because, to me, that's how it gets passed down," he stated. "There's a guy named Kevin Burns whose spurs are pretty expensive. He learned from a guy named Jerry Cates. If you look at a Burns spur, it looks a whole lot like Cates."
Jennings said the same could be said of Billy Klapper, who learned from the "Godfather" of Texas-style spurs, Adolph Bayers.
"I remember I sold a couple pair to a guy in Stillwater, Okla., who was a trader," he recalled. "He was carrying a pair of mine around a big spur show in Abilene, Texas. Another spur maker said, 'Oh, you've got a pair of Madole spurs,' and he said, 'No, this is Jennings' spurs, but he learned from Madole.' This is how distinctive my buddy's style is."
He said the distinction of the spurs could be seen in the details. Many spur makers do not engrave in the steel, but Jennings and Madole make individual cuts in the steel to create a distinct design. Also, the area between the band and the shank is squared off, which requires more effort.
While he is inspired by Madole's work, Jennings also has more resources available than his mentor had.
Pick up the December issue to read more about Jennings!