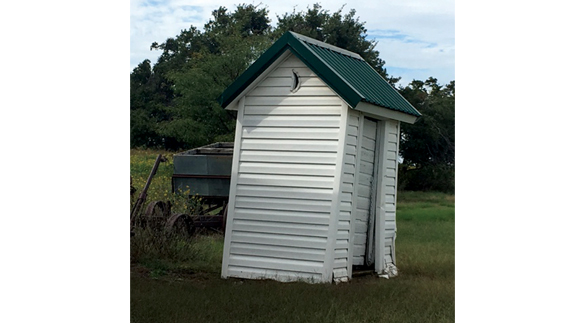 By Ralph Chain
In the early 1900's, two brothers came and filed on land about five miles north of where my granddad filed. Their names were Fat and Short Brookovin. Those were nicknames, but I don't know their real names.
They became prosperous and were real good operators. Short never married that I know of, but Fat married a lady named Ella. In the '30s, Fat and Ella built a really nice home on that property and a big red barn. When they built their home, Ella insisted on modern fixtures and plumbing—a bath tub and inside stool. Fat wasn't really for the inside plumbing, and he refused to use the inside stool. He went outside and built a fancy outhouse that he used until his death, never using the inside toilet.
Time took care of the really nice house and the big barn. Throughout the years we bought most of Fat's property. When we took over the property, the house and barn had fallen down; the only thing surviving was the toilet.
For sentimental reasons I moved the toilet down to our place where I had restored an old school house and my granddad's toilet. Fat's outhouse is still there. Every time I drive by it I think of Fat Brookovin.
How some people refuse to change.