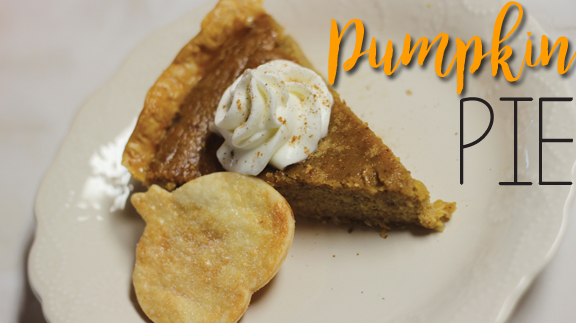 While canned pumpkin from the store is delicious, making your own pumpkin puree from real pie pumpkins is a fun, educational and scrumptious way to make the quintessential Thanksgiving desert. Homemade pumpkin puree is also packed full of vitamins and fiber making it healthier than pumpkin from a can. One pie pumpkin can make enough puree for two to three pies so it's worth the cook time it takes to get a cooked pumpkin. Impress your family and friends this holiday season with a real pumpkin pie, straight up pilgrim style!
Yields: 1 Pie
Total Time: 2.5 Hours
For Pumpkin Puree:
Ingredients: 1 Pie Pumpkin
Preheat your oven to 325 degrees. Cut the pumpkin in half. Scoop the guts and seeds out. Disregard the guts, save the seeds to make roasted pumpkin seeds later on if you like. Put pumpkin face down in pan. Full pan with 1/4 inch of water. Bake for 1 hour. Let cool. Cut the skin away from pumpkin, it should almost pull right off. Disregard skin. Cut pumpkin into chunks and put in food processor or blender. Blend to the consistency of baby food. You can use it immediately or freeze for other purposes.
For Pumpkin Pie:
Ingredients:
2 cups Fresh Pumpkin Puree
1 (12 Oz.) Can of Evaporated Milk
3 Eggs
3/4 cups sugar
1/2 tsp Salt
1 1/2 tsp Ground Cinnamon
1 tsp Nutmeg
1/2 tsp Ground Cloves
1 deep dish pie shell
Combine sugar, sale, spices and eggs in a large bowl. Add puree and milk then combine thoroughly. Pour into pie shell. Place foil around the edges of the crust. Place pie on foil-lined cookie sheet. Bake at 350 degrees for 50 to 60 minutes. When the time is up insert a knife into the pie to see if it comes out clean, that means it is done. Keep baking if the knife doesn't come out clean.