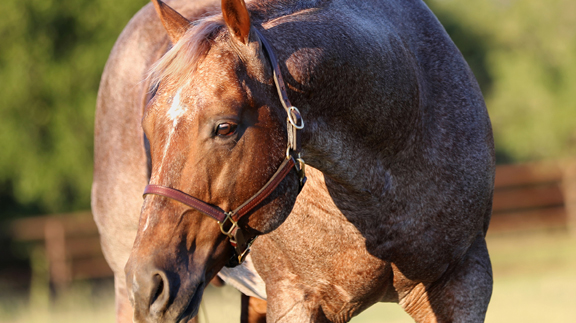 By Corsi Martin
Perhaps one of the most pivotal transactions in equine discipline history has recently taken place in north Texas. Metallic Cat, 2016 NCHA Sire of the Year, lifetime earner of approximately $637,700, and his offspring bringing around $14+ million, has found a new home with Robert (Bobby) Patton, Jr. of Aledo, Texas.
Alvin and Becky Fults at Fults Ranch Ltd. sold Metallic Cat to Bobby Patton on September 20, 2017, for an undisclosed amount. Patton, now owner of sires Spots Hot and Boon San, is thrilled about the transaction and looks forward to working with Jeremy Barwick of Brazos Valley Stallion Station to continue pursuing a solid breeding operation.
"I didn't wake up and plan to own Metallic Cat," says Patton. "It was just an opportunity that I feel fortunate to take advantage of…I am excited to breed to Metallic Cat and Spots Hot."
Expressing his enthusiasm in becoming the new owner of one of NCHA's top stallions, Patton says he is motivated to work with Jeremy Barwick and his own trainers for sound advice on breeding and expanding.
Over the years, Metallic Cat has produced a plethora of successful offspring. At the 2017 NCHA Super Stakes, Metallic Cat offspring made up 12 of the 46 finalists in the Non-Pro and Open finals, alone. Of those 12 foals, 5 placed in the money, including the winning horse of the Open finals, Hashtags, who scored a 220 to bring a hefty prize of $74,104.
Although Patton has seen Metallic Cat's offspring succeed in masses, he was happy to reveal that his own top two three-year-olds and top two two-year-olds are all sired by Metallic Cat as well.
"It's pretty obvious to me that that's the stallion you want," Says Patton in reference to Metallic Cat. "And if you're looking for an outcross, I think Spots Hot is the way to go."
Patton, partial owner of the L.A. Dodgers and successful Texas investor, first acquired a taste for cutting horses in 2015 when Alice Walton sold her ranch. From there, Patton purchased his first stallion, Boon San, and would go on to purchase Spots Hot the next year at the 2016 NCHA Futurity.
Read more in the latest issue of OKFR!