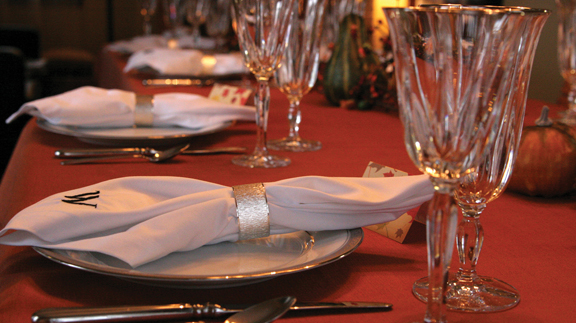 By Beth Watkins
Fall is such a tranquil time of the year. With the change in season comes cooler air, pumpkins, sweaters, boots, bonfires and hot chocolate. Even those words feel comforting. A trip down Talimena Drive, your sweetheart by your side, hot apple cider in your Yeti, and George Strait on the radio makes a great fall day in my opinion. But, all good things must come to an end.
We have to start putting out hay every night, and it gets dark long before our day is over. The holidays start to barrel down upon us, and the stress begins to rise. Friends and family get togethers start filling up the calendar. For my friend Ellen, the first chill in the air arrives mid-November, in a mailbox, a Christmas card from her well-meaning mother-in-law.
Merry Christmas to you son and to that woman you married! Please don't worry about me. I'm just fine considering my age. This will more than likely be my last Christmas. But the important thing is that you have a nice holiday, miles away from your aging mother. I've sent you $10 and a coupon for 10 percent off a burger at Sonic, which I hope you will spend on some decent food for yourself. I know that woman you married can't cook. I thought about getting her a cookbook for Christmas, but I'm not sure how well she reads. It might interrupt her soap operas and eating bon bons on the couch. Which reminds me dear boy, has she even watched that videotape of my hemorrhoid surgery? I'm sure she hasn't; she's just selfish that way.
Thank you so much for the birthday flowers, darling boy. I put them in the freezer so they'll stay fresh for my grave. Did you know that I turned 65, which is the same age my neighbor down the street was when she passed? Just a week before she went to meet her maker, she had been telling me how lonely she was that her only son hadn't even bothered to call her everyday like she had asked. What a shame, her giving birth to him and all. Even though, I'm sure it was an easier birth than I had when I had you. I was so uncomfortable. The pain was just unbearable. I could hardly breathe. They had to give me oxygen, so I'm sure I nearly died when I was giving you life. My body has never been the same after giving birth to you. But I'm glad I did, because out of all the people in this old world, you, my little snicker doodle give me sunshine on a cloudy day.
Well son, I have my jazzercise class in the morning, so I better head on up to bed.  Now don't even think about buying us Christmas gifts, because I know you need your money for those expensive family vacations she makes you take every year. Give my love to my darling grandchildren and my regards to whatever-her-name-is, you know, the one who stole you screaming from my bosom.
With all my love,
Mother.
Now that's about as bitter as the time Grandma mistook salt for sugar when she made her apple pie.
Thanksgivings these days have a few similarities to the very first one. I know it all started with the Pilgrims and Indians, peacefully coming together to share their harvest, to fellowship, and give thanks to God. We will use Thanksgiving dinner at Ellen's house as an example. Instead of Pilgrims and Indians, she welcomes her in-laws and her side of the family into her home.
Pick up the November issue to learn more!