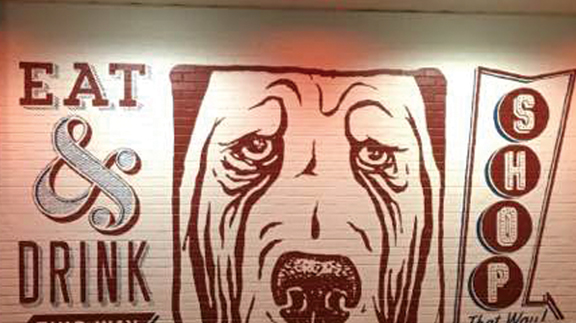 Tishomingo, Oklahoma
By Kristi Hawks
This month's backroad bites adventure was only about 30 minutes from home, but we did travel on back highways through two small towns, over the Washita River, crossed a train track and traveled to 214 W. Main Street of Tishomingo, Okla., to find the home of Grand Ole Opry member Blake Shelton's new restaurant – Ole Red.
It's not hard to find with the big red awning, and both the restaurant and shop are connected. If you happen to get lost, just look for the red and while wall with a painted mural of Ole Red. The name was inspired by Blake Shelton's breakout hit "Ol' Red."
Before walking in, I expected it would have a country feel being in small town Oklahoma, and I was not disappointed. There was a variety of seating including the bar area, booths, high top tables, and regular tables. We were told it'd be a 30-minute wait, gave them our phone number to get the text when we could be seated and barely made it into the shop before we received the text: "Woohoo! We're ready for you at Ole Red!"
After a friendly greeting, we were seated at a high-top table and started looking around at all the items that make this place Blake's. He has pictures of dogs, tractor seats, his record album awards, TVs to watch the sporting events and much more.
The menu was unique in a neat wooden folder with Ole Red on the cover and everything easy to read once you opened it. We started with an appetizer of Tri-Color tortilla chips, spicy smoked sausage cheese dip and ole red salsa. The outstanding part of the appetizer was the spicy sausage cheese dip.  It's a must-try if you go. A previous visitor suggested ordering the bloody Mary, which my friend tried and considered it one of the best she has ever had. Of course, Ole Red has plenty of other specialty drinks to try.
For our main courses we ordered the ribeye steak, fried catfish and brisket tacos. The 12-ounce center-cut ribeye came cooked as ordered with seasoned herb butter and with one side. Although there were no baked potatoes on the menu, the red skin garlic mashed potatoes were a pleasant choice. It also came with a homemade garlic herb biscuit that was so good we all shared. It was a great steak and left my friend licking his lips for more!
The fried catfish was breaded with lemon pepper cornmeal and served with fries, house-made hushpuppies and pickled green tomatoes. We all tried some, and I have to say it was some of the best fried catfish I've eaten in the area. It was cooked perfectly, not too dry and not undercooked. The cornmeal breading was crispy but didn't hide the taste of the catfish. The hush puppies were equally as good.
The brisket tacos came with chopped brisket, shredded lettuce, and spicy barbecue ranch and pico de gallo served with chips and salsa. Again, this was an excellent choice and the brisket just melted in my mouth. Three tacos came on the plate, and it was enough to share with my friends.
None of these menu items were unreasonably priced considering the food was made fresh to order and tasted fantastic. While we were waiting for our food, a performer got on stage about 8 p.m. and entertained us with his voice and guitar. To be honest, it was so good and homey that I couldn't even tell you how long it took to get our food, but it didn't seem very long as we listened to music and munched on our chips with cheese and salsa.
Pick up the latest issue to learn more!