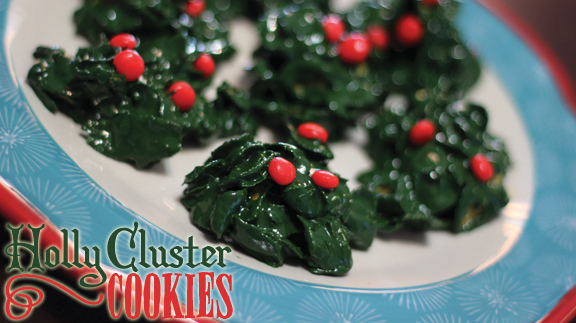 By Lacey Newlin
Holly Cluster Cookies
My Aunt Jody has made the cookies every year for Christmas since before I can remember, and they have always been my favorite. She always makes extra so there will be plenty for me to take home and enjoy after the festivities. Christmas just wouldn't be the same without them. Beware, they do turn everyone's mouth dark green so it is impossible to sneak one and go unnoticed!
Time: 30 minutes
Serves: 15-20
Ingredients:
3 Tablespoons Margarine
1 Package (10 ounces) Marshmallows
Green Food Coloring
5 cups Cornflakes
Vegetable Cooking Spray
Red Hot Candies
Directions:
Melt margarine in large saucepan over low heat. Add marshmallows and stir until completely melted. Add green food color until desired color is achieved. Remove from heat. Mix in cornflakes and stir until well coated. Spray wax paper with cooking spray and drop mixture by the spoonful. Add 3 to 4 red hots on each cluster.