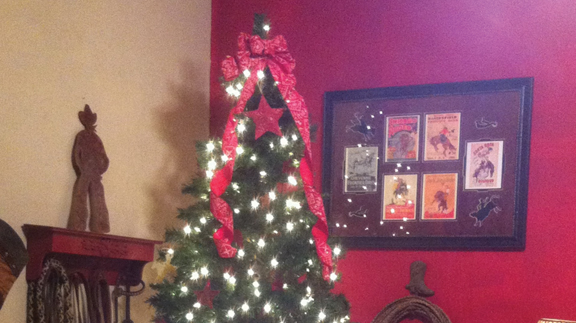 By Lanna Mills
It is hard to believe that it is already Christmas time again, and we are wrapping up 2017! We are all hurrying to purchase those Christmas gifts, wrap them and place them under the tree. We all have those family members who are just a little harder to buy for than others.
Cowboys and ranchers can be difficult to shop for. For one, if they need something, most often it is an urgent right now type of situation and there's no waiting around in hopes that Santa will bring it; they just go get it themselves.
Second, cowboys and ranchers can be particular. They have certain styles and brands that they like of almost everything and they don't stray. Last, cowboys and ranchers are known for using things until they are no longer useable: I mean 100 percent worn out and then they will probably find a new "use" for it. So what gifts do we give these not so easy to buy for folks? Here are some ideas:
A new pair of handmade boots always makes a great gift. Just make sure you know the correct size, height of the tops, heel preference, the type of toe, the color and type of edge for the tops, color for vamps (foot) and whether they like rough out or smooth and stitching design. If they already own a pair they probably have a maker that they prefer. Who know there are so many choices when it comes to a pair of boots?
Perhaps he needs a new hat. Be sure to know what size, brim size, color, and what brand they like best. Whether straw or felt, the hat will need to be shaped, but it's probably best to let him do that. If buying him a new straw hat for the coming spring, you may even get it on sale this time of year.
When it comes to cowboys, saddles, tack and ropes never disappoint. Saddles are quite pricey so get ready to shell out some cash. Like with everything else there are so many choices: maker, seat size, tree style, rough out or tooling, seat rigged, and round or square skirt. No matter how much tack a cowboy has, it will never be enough. Handmade bridles, bits, spurs, buckles, leggings, cinches, hobbles and collars are sure to please. If it is something they already have they can always swap it for something else they've been wanting. Ropes don't last long especially if they are used often, so they can always use a new rope or two. Just keep in mind that cowboys most often have a preferred brand and stiffness.
Get your rancher husband some equipment and you'll probably get wife of the year award. A new chute to work cattle, a new trailer, or a set of portable pens will make him love you forever, but get ready to spend several thousand dollars. Well, he may not love you so much when he finds out that you spent that much money! Some less expensive tools for around the ranch include calf pullers, dehorners, knives, hot-shots, sirens, fence stretchers, post drivers and water tanks.
I don't know a single cattleman or cattlewoman who wouldn't mind getting free hay or feed. So for that person who has it all, this may be the best bet. You can never have too much feed or hay, and it will get used.
Read the December issue to learn more!