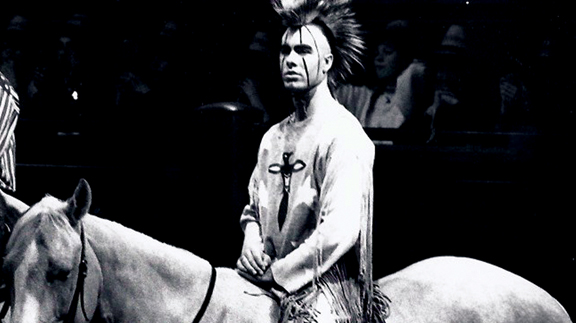 (Do you speak French?)
By Judy Wade
It is 4,896 miles from Ringling, Okla., to Paris, France. This is the story of how one young man made that journey.
His great-great-grandfather Noah, his great-grandfather Wilton, his grandfather Paul and his father Randall (Randy) were all ranchers. He grew up on a ranch, riding horses, doing all the things a cowboy does. In high school he played baseball and became interested in rodeo, where he team roped.
In 1991, working as a welder after graduating from Ringling High School four years prior, he saw an advertisement in a rodeo magazine for try-outs for positions in the soon-to-open Euro Disney outside of Paris. As a lark, he and some friends went to Mesquite, Texas, and tried out. Returning to work, it was several months before he got a phone call asking if he was still interested.
"I was at the barn getting ready to go rope and my mom yelled at me and said someone from Disney was on the phone," he explained. "Because it had been so long since the audition, I had forgotten about it and thought it was a joke so I hung up. Mom yelled out again, 'It's that same woman calling back!' I'm thinking what if it really was Mickey Mouse calling and I'm already fired because I hung up on the Mouse?"
That's where Shawn Howard's life took a different direction.
Howard was soon on a plane headed for Orlando, Fla., where he joined the group who had all been selected for this adventure before the flight to France.
"He'll be back soon," his father Randy thought.
He was wrong. More than 25 years later, Howard is still working for what is now Disneyland Paris.
"There were about 35 cowboys and 30 Indians," Howard added. "Some of those Indians had never been off the reservation let alone in a taxi or airplane. I thought, 'Oh, boy, is this going to be fun, or is this going to be like the battle at Little Big Horn?'"
Arriving in Paris after an 11 hour flight, they found two obstacles. First, it was cold,
"The coldest I had ever been," he said.
Next was the language barrier.
"Some of the guys thought if you spoke louder, the French people would understand. They did not," Howard recalled.
First came working with the stunt coordinator, Mario Luraschi, one of the most famous horse stunt men in Europe. The first day everyone lined up to check out a saddle. The line was so long and it was so cold Howard went back to the bus to warm up. By the time he got in line, all the saddles had been issued and more would not be available for three weeks so "I had to ride bareback. The horse I was assigned was named Snowflake, but it should have been Cocaine. No saddle, cold, wet and rainy-no problem. After my riding without a saddle for three weeks, they left me as an Indian."
"Luraschi is amazing with horses," Howard continued. "I learned a lot. As a rodeo cowboy and team roper, I had spent all my life trying to stay on a horse, and now he's wanting me to fall off and pull the horse over for horse falls!"
Disneyland Paris is actually about 30 miles east of Paris. The 4,800 acre park that opened in April 1992 has a multitude of attractions and draws over 13 million visitors each year.
Howard's role began with Buffalo Bills Wild West Show.
"I played an Indian for eight year and sometimes was a cowboy, he explained. "Now I drive the stagecoach."
He can expertly handle a four-up and a six-up hitch to drive a wagon.
Michael Eisner, the CEO of the Walt Disney World Florida Company, loved the western way of life. He wanted something real and unique for the opening of the new Disney Park in Paris. The Europeans are fascinated by the cowboys and Indians, but all they have seen is on television or the Internet. So he put together a remake of the Buffalo Bills Wild West Show. The original Buffalo Bills Wild West Show toured Europe eight times, the first four tours between 1887 and 1892, and the last four from 1902 to 1906. The new show has been an enormous hit.
"I was part of the history-making reenactment of a show that started back in the 1800's," Howard remarked. "Not a lot of people can say they are a part of history like this—bringing this all to life with actors like Peter MacLean who played Buffalo Bill, Tim Reevis as Sitting Bull and one of the best hands I've seen on a horse is Sonna Warvell who plays Annie Oakley. Working with actors like this only brings out the best in you. You could not have chosen any better actors to plays these roles. They are the best!"
The show has toured all over Europe.
Learn more in the December issue of OKFR!