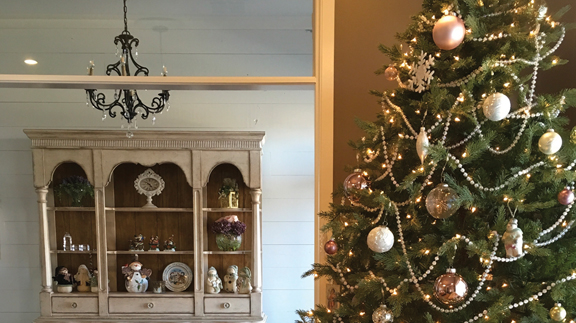 By Beth Watkins
My first-born daughter Jessica's birthday is November 30. In honor of her birthday, I never let the Christmas season begin until we are finished celebrating her. So, on the morning of December 1, I break out Elvis' "Blue Christmas" album and begin transforming our home into a Winter Wonderland.
When the kids were growing up, we lived in a neighborhood where everyone decorated their houses with Christmas lights. Mothers baked and decorated cookies before rushing their kids off to church for their Christmas Pageant practice. We didn't have Pinterest back then, so we "homeroom moms" would huddle up at the one and only Hobby Lobby to come up with a special craft for the kids to make at their school Christmas party. Oh, the pressure to be perfect! I think I just broke out in hives re-living those magical moments. No wonder I looked forward to popping a cork on that champagne bottle on New Year's Eve.
These days my Decembers are a lot slower. I still transform my home into a Winter Wonderland. I still bake and decorate cookies, and I still buy Christmas cards I never get around to sending. The birth of Jesus is still the reason for the season, the center of our celebration, but five days after we celebrate our Lord and Savior's birthday, we celebrate mine, and as if this month needed just one more reason to celebrate, we got married in December.
Throughout the years I've collected a plethora of Christmas paraphernalia, which are carefully stored in big Rubbermaid tubs. When I lived near my kids, my son and sons-in- law were responsible for retrieving the tubs out of the attic. I always thought it would be a great idea if we had a lift that would lower the tubs down through the garage ceiling, sort of like a tub elevator. That way I could just do it myself.
And now, living away from my son and sons-in-law means the task of bringing in all those Christmas tubs is left up to me and Ole "Ba-Humbug!" But, I now have my lift! The tubs are stored in the shop's attic space. The lift is our John Deere tractor, GW puts the bucket up to the attic level, I slide the tubs into it, then they are transferred over to the flatbed of the feed truck and hauled over to the house.
Scrooge counted them last year as he brought them in the house and again as he hauled them back out of the house. Then he counted them again after Christmas as he hauled them back in the house and finally again as he hauled them out of the house to return to storage. Ebenezer doesn't see the need for my six themed Christmas trees either. I've collected ornaments for almost 40 years, and I admit, it might be classified as a bit anal, but I cannot mix themes on one tree! He should understand that because he is a little anal about his farm equipment: it should all be green and yellow.
Learn more in the December issue of OKFR!