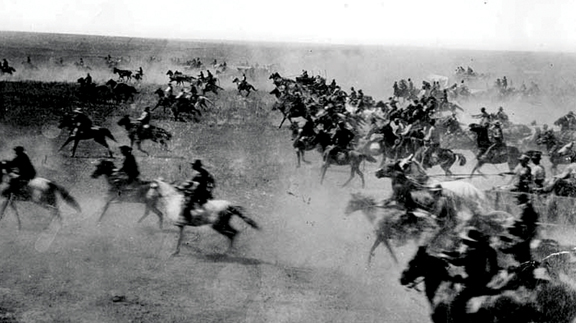 By Laci Jones
Joe Miller was still learning the ropes on becoming as good of a cattleman as his father, G.W. Miller. Only a year after the Winfield Roundup, Joe Miller was tasked with providing the entertainment at the Alabama State Fair in 1883.
At only 15 years old, Joe, Ponca chief White Eagle and about 100 Ponca Indians headed out for Alabama. Audience members were entertained by the showcased Ponca Indian heritage through traditional dances along with animal performances.
Upon their return, Joe continued to hone his skill as rancher but also received formal academic training at the Central University in Richmond, Ky. By 1884, Joe missed the rough lifestyle of a cattleman and returned home to Winfield, Kan.
G.W. gifted Joe $10,000 when he headed south of the Red River. After he established himself in West Texas in the mid-1880s, he learned his father's former partner, Lee Kokernut, was in the area. Joe was looking for a job as a cowhand, but Kokernut was too ill to lead a herd of cattle to Montana. Instead, Joe purchased the cattle for $4 a head from Kokernut to be delivered to Kansas instead of Montana.
When the crew arrived in Hunnewell, Kan., with the 2,500 steers, Joe more than doubled his money. However, it was not his last cattle buying trip, but the harsh weather made success in the cattle industry difficult.
The severe drought in the summer of 1886 impacted the majority of the United States, but the blizzards that took place that winter became known as the "Big Die-Up." According to Michael Wallis in "The Real Wild West," the winter season destroyed 90 percent of the range animals and "put a stop to fresh beef on the nation's dinner tables for years."
The Millers saw a loss in profit after a trip to Tulsa, Okla., and they struggled through the hardships resulting from the "Big Die-Up." While the "Big Die-Up" hit the northwest United States with a vengeance, the Millers, among other cattle ranchers, saw cattle could not care for themselves once turned out, according to Wallis.
This time period saw many changes including using railroad transportation to ship cattle, which was the beginning of the end for the dusty cattle trails.
On April 22, 1889, approximately 50,000 homesteaders rushed by wagon, horseback and other means of transportation to stake their claim on the "Unassigned Lands" in Indian Territory. Many ranchers including the Millers were against the Land Run as their livelihood was forever changed.
Learn more about the 101 Ranch in the January issue.