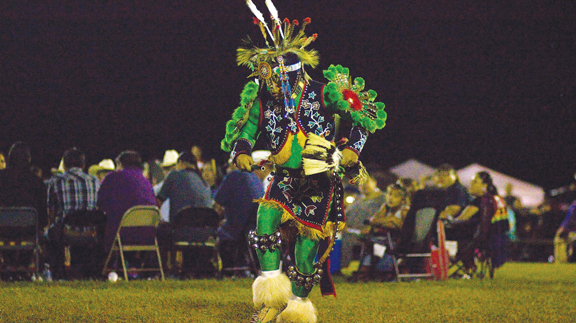 Keeping Native American Traditions Alive
By Jan Sikes
Oklahoma is rich in Native American heritage and traditions, but nothing expresses it in a more perfect art form than the Dancing Eagles.
Husband and wife team, Michael and Lisa Pahsetopah, are the Dancing Eagles, with occasional help from their fourteen-year-old daughter, Heaven, when she is not in school.
Michael Pahsetopah is an award-winning Oklahoma dancer. He performed with his father, Paul Pahsetopah, from the '80s until 2001. Members of the Osage Tribe, the father-son duo believed it important to educate people about these sacred traditions. Paul Pahsetopah passed away in 2001 and Michael, with the help of his family, continues the education and performances. Lisa is a member of the Pawnee Tribe.
"We teach others about Native American traditions through our performances and presentations and help break the stereotypes that TV shows have created about Native Americans," Lisa explained.
Mike and Lisa often visit Oklahoma schools and give talks along with performances.
"TV has shown Native American men riding on horses and hitting their mouth and doing the holler," Lisa explained. "But, in reality, it was the women who made what we call the "women's honor" cry. Women make the sound to honor the flag or to honor a family out there in the dance arena. Then, when we sing, they aren't chants. They are either vocables or tribal languages."
A vocable is "any meaningful sound uttered by people, such as a word or term, that is fixed by their language and culture."
"A long time ago the government prohibited the Native Americans from having gatherings to do their songs, dance and perform ceremonies," Lisa continued. "Then eventually they allowed us to have Pow Wows, so you would have all these different tribes who spoke different languages come together, so they created vocables to give one voice to everyone. But within each tribal nation, they had songs that were passed down as well, and each song told a story."
The drum is considered the heartbeat of their people.
"The drum was once a living creature," she added. "The skin was once covering an animal, the wood once a tree, and the circle represents the circle of life. So, we see it as a living instrument."
Mike Pahsetopah stated that when he is dancing, it can often be a spiritual experience.
"People dance for different reasons, but there are some who dance giving glory to God, dancing to prayers," he added. "So, there is a spiritual plane there when we are dancing from the heart."
The Dancing Eagles are ambassadors of their culture through education and entertainment.
Read the January issue to learn more!