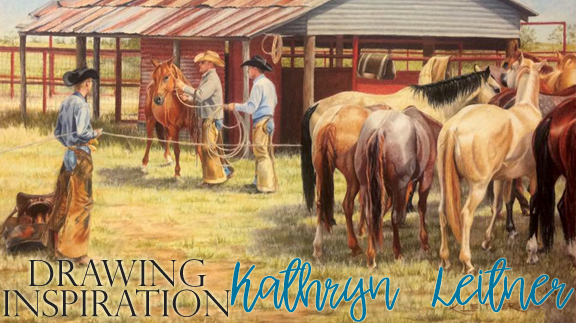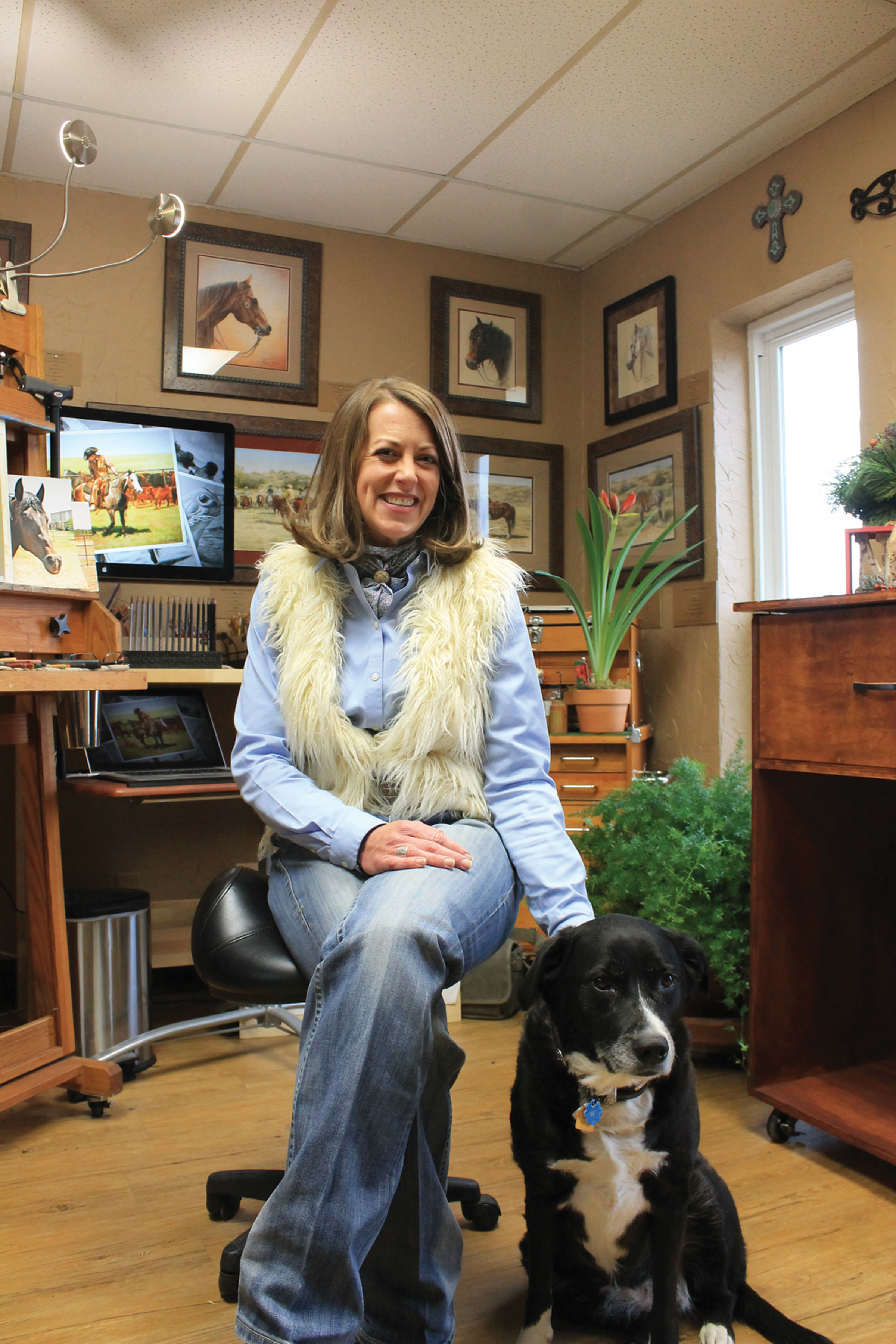 Drawing Inspiration
By Laci Jones
Grasping several colored pencils in her left hand and one bright orange pencil in her right hand, western artist Kathryn Leitner peered over her glasses at her latest work of art. Periodically glancing at the image of a horse displayed on the computer screen, the artist gracefully added another layer of color to the vibrant drawing in front of her.
Self-described as "realism," Leitner's art captures the western heritage by telling a story. However, her story began in eastern Montana on her grandparent's ranch. The oldest of five children, Leitner stated her "rural roots" come from traditional ranching.
"We had chickens and a milk cow," she added. "We had beef cattle and a little bit of hay. It was very traditional."
All her siblings are artistic in some fashion, and Leitner is no exception. Leitner was first exposed to drawing at an early age. She recalled picking up pencil and sketchbook during her first-grade year, and her parents giving her "how to draw" books.
Two years later, the family moved from her grandparent's ranch north of Winnett, Mont., to Lewistown, Mont. They later relocated to California during her freshman year of high school. While adjusting to the urban lifestyle was difficult for Leitner, experiencing a different culture had an impact on the young student.
"It was a culture shock, but I think you gain things from everywhere you are," she explained. "We learned to be a lot more self-sufficient, strong and confident. You either decide you like it or you decide that you really appreciate where you came from, so it definitely made me appreciate my roots."
Her family was supportive of her art, but the first teacher who encouraged her was her fifth-grade art teacher. Leitner developed her skill in high school art classes, describing the experience as "instrumental." She learned different techniques, experimenting with mostly graphite. However, she also took a painting class using acrylic.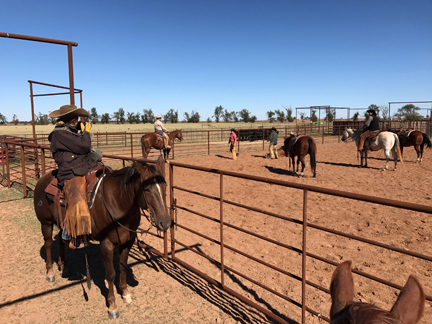 Leitner's talents were not only with a pencil and paper; she also graduated from beauty school. In 1989, she moved with her grandmother, who relocated to western Oklahoma. The Montana native started working in a salon, and her son Justin was born in 1990. She met and married Jack Leitner three years later.
She opened her own salon at their home in 1994 west of Kingfisher, Okla. With the support of her family and the success of the beauty shop, Leitner was able to further her art. When she started her art, she initially struggled with the thought that it was a "selfish pursuit."
"I thought you had to be famous to sell your art for a lot of money, and you really aren't supposed to want fame," Leitner explained. "I struggled with that, but I read a Max Lucado book called the 'Cure for the Common Life: Living in your Sweet Spot.' It talks about how God packs your gifts and he packs your bag and that's what you're supposed to use. They are your gifts; you're not supposed to hide them."
That book had an impact on Leitner, and she said things began to fall into place when she decided how to use her gift. She found her passion in drawing and painting the western heritage. She observed many ranchers in their everyday activities to help tell a story through her art.
"I really respect that lifestyle," Leitner said. "It's not easy ever, but it's so rewarding. The chance to go out and ride with them, talk with them, spend the day with them, that's how you're able to tell their story."
She works primarily from the photographs taken at different ranches including Tongue River Ranch. Leitner makes at least four trips each year to different ranches to take several thousand photos. The artist develops a relationship with all the cowboys who work on the ranches and their families.
"I always appreciate the opportunity to get material for my art," she added. "It's way more than that because you get to know those people, and you don't always know how you're going to be blessed by your gift. I can't count the ways."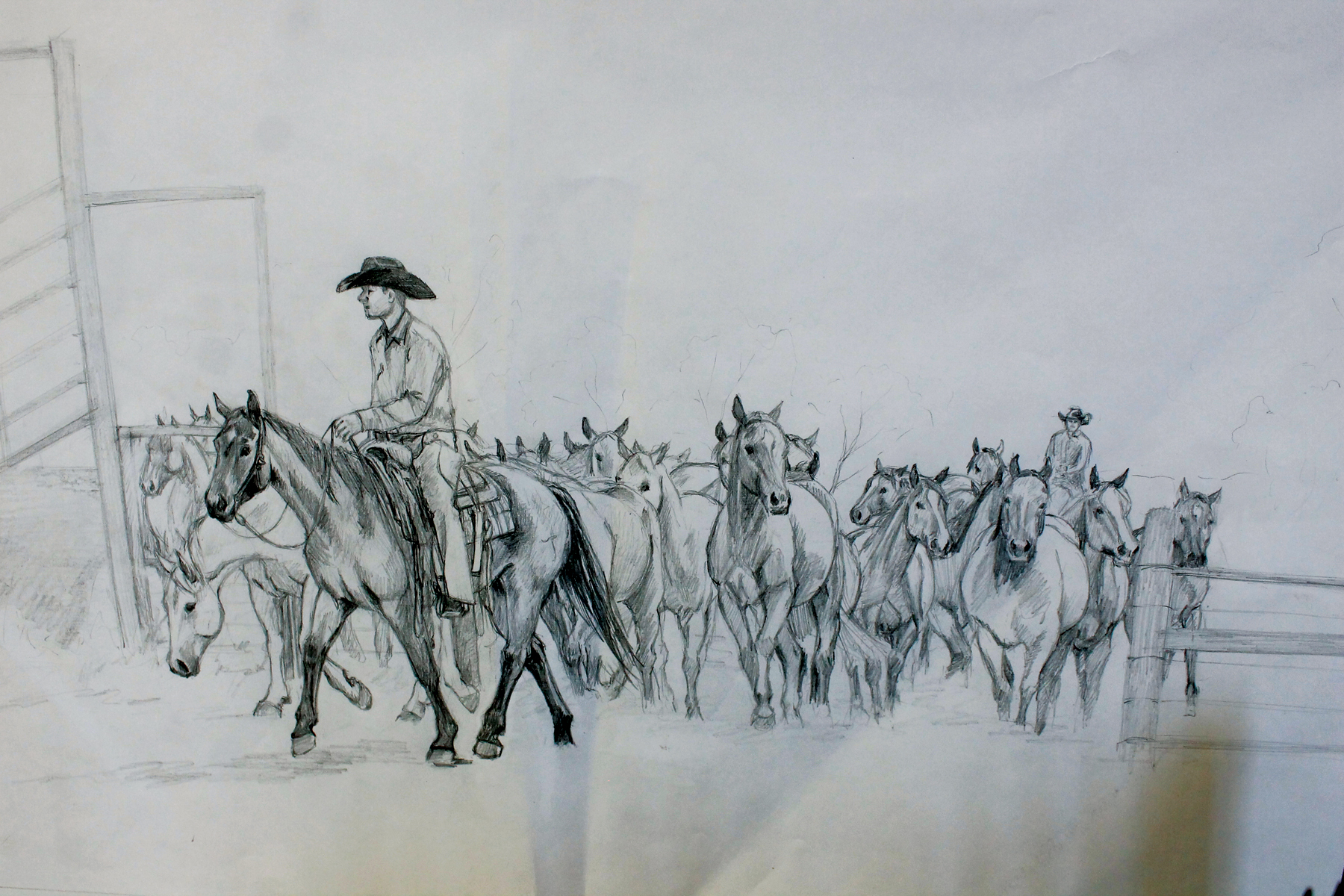 The "beautiful opportunities" to use her gift are rewarding, but it is also a long process. From the time she takes the photos at the ranches to selling the finished art can take up to two years.
After returning from a trip, Leitner analyzes each photo and starts her sketch on vellum from several different photos. The variety of photos from the same moment helps the artist create the story she wants to tell. She has experimented with various mediums throughout her career.
"I mainly concentrated on graphite until my husband bought me a large set of colored pencils," she chuckled. "I honestly had them nine months before I ever got the nerve to try them because it was intimidating. I always used just graphite—then all of a sudden I had all these colors."
Leitner also began working with oils, learning from fellow artists.
"I took a class with Bob Faust from Okarche, Okla., who was giving art classes, and I started taking oil painting classes with him for quite a few years," she explained.
The artist later took classes from Dennis Parker in Oklahoma City.
She also visited the National Cowboy & Western Heritage Museum in Oklahoma City, stating it was "the first exposure I really had to a lot of good art." She garnered inspiration from these trips, and started participating in workshops with the featured artists including Carrie Ballantyne and Lisa Ann Watkins.
Leitner said she was inspired by watching Ballantyne because her portraits have a "feminine softness." Watkins works with watercolor pencils, which inspired Leitner to attempt to use the medium. Leitner said watercolor pencils give the underlaying without the "graininess" of a colored pencil.
"I've used the watercolor pencils, but I haven't added water to them," she began. "I just used them in conjunction with my colored pencils. When you add the water to it, you lose a little bit of the control you have with the pencils being dry, then you have to go back over and add detail."
Her initial watercolor pencil piece presented Leitner with a few shade challenges where she had to work to "get my lights to come back out." Despite her initial intimidation, colored pencils are her favorite medium to work with.
"I always go back to the colored pencil because I like the detail," the artist explained. "They challenge you a little bit more to get your values strong and your colors bright that somehow have a soft, gentle look when you're finished. I like that."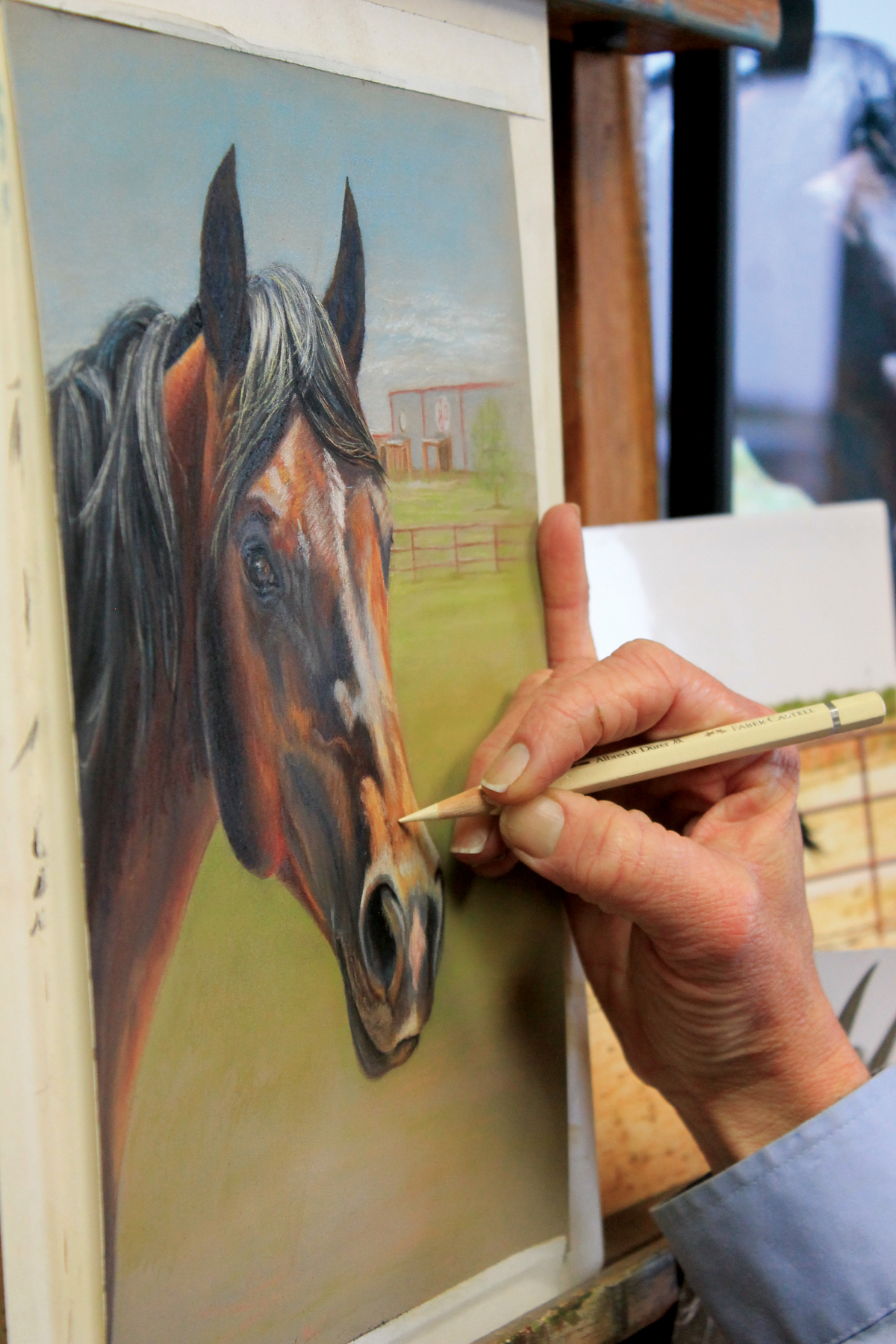 While the time dedicated to each piece varies, the artist said she averages 30 to 60 hours. However, Leitner said she was once hesitant to keep track of hours until she participated in a workshop with the president of the Traditional Cowboy Artists, Wilson Capron.
"He said, 'If you really want this to be a business, you have to treat it like one,'" she recalled. "I really started being more dedicated."
She logs her hours in a notebook, completing 12 to 18 pieces each year. This has helped her justify the pricing of each piece.
"You would think that seems like a lot of money, but I have 30, 40 or 60 hours invested in a piece," she explained. "Some have taken two and a half weeks' worth of work if you're working a 40-hour week because of all the detail and all the figures."
The artist said it was once difficult for her to stay motivated with her art. Leitner later realized staying motivated is easier with an organized workspace and structured lifestyle.
"Discipline is really important if you want to take this serious," she added. "If I can get rid of my distractions, then it's a part of my blessing that I get to do my art because when I'm doing it, I'm happy."
To learn more about Kathryn Leitner and her art, pick up the February issue of OKFR!