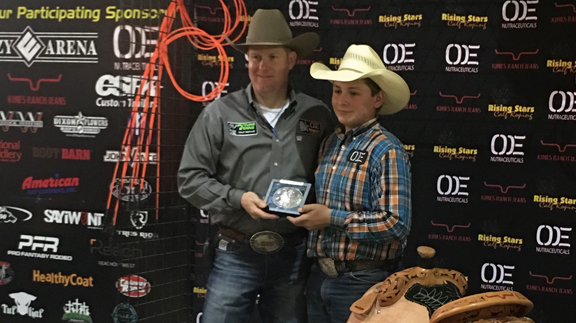 By Ddee Haynes
While most families were either preparing and/or traveling to a destination for a Thanksgiving feast with their loved ones, more than 800 rodeo families were gearing up for one of the largest youth calf roping events in the world, the Rising Stars Calf Roping. The Rising Stars Calf Roping is an annual event during the Thanksgiving holiday in Guthrie, Okla., at the famous Lazy E Arena.
The Rising Stars owners, Chris Neal and Mark Holder, have a mission statement. That Mission Statement is:
• To produce the largest youth calf roping event in the world.
• Promote the sport of rodeo and the youth of our industry.
• Offer a family-friendly tradition over a four-day holiday weekend full of excitement for the whole family.
• Give families and spectators alike a place for western entertainment and shopping.
• Provide a professional production for our contestants to compete on the large stage.
This year was the first time for my family to attend one of the Rising Stars Roping, and I can say without any reservations, "Mission Accomplished!" I promise our family will be back again next year. I have attended many roping events over my not-so-young-anymore life, and I can say with all honesty the four-day event was run like a well-greased engine.
At times, multiple arenas were utilized at the same time with a different age or kind of roping. Saddles, buckles, rope cans, money and even a horse trailer were given away that weekend to the high point winner. Ropers ranging from the ripe young age of six to 19 competed in the youth events, and the more "mature" ropers even had a chance to take home prizes and cash.
Read the January issue to learn more!