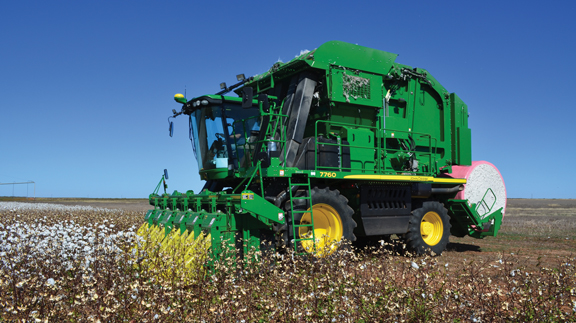 By Everett Brazil, III
Cotton acres have slowly been on the rise in Oklahoma for the past few seasons, pushed by an increasing cotton market and decreasing grain prices, especially wheat and corn. The 2017 crop nearly doubled over 2016, however, leading to one of the largest harvests in state history and continuing a trend that could potentially see a further increase in 2018.
Cotton has long been one of the primary crops in Southwest Oklahoma, due to hot summers and mild falls.
"Cotton grows well in our state. It can handle a drier summer, and still do pretty well," said Troy Marshall, USDA- National Agricultural Statistics Service (NASS) state statistician, Oklahoma City.
According to the USDA-NASS November (2017) Report for Oklahoma and Texas, released Nov. 8, the state saw 617,000 bales in 2016, but the 2017 harvest is forecasted to see 1.1 million bales by the end of the season, which is one of the largest harvests in nearly 100 years. About 5,280,000 acres were planted in 1925, and 1926 saw 1,773,000 bales. In terms of overall yield, 2016 set a record, at 1,021 pounds per acre. If the harvest actually makes the 1.1 million-bale forecast, it will be the largest harvest since 1933, which saw 1.262 million bales, according to USDA-NASS statistics.
"Right now, we're looking at being 78 percent higher than we were in (2016), just based on production," Marshall said.
Pick up the January issue to learn more.