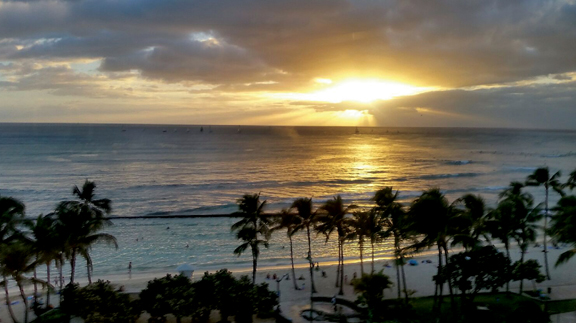 By Beth Watkins
Another year down and one more candle added to my cake! 2017 was a good year: our cattle company doubled in size, we crossed Hawaii off our bucket list and I became a published writer.
I guess I'm to the point where I'm thankful for another birthday, but I now sympathize with what my dad used to say, "If I had known I was going to live this long, I would have taken better care of my body." I am going to blame that evil villain "Menopause" and her side kick "Blue Bell" for the weight gain, and I guess it's partly my fault. I shouldn't have repurposed my treadmill into a clothes dryer.
It's time to make our New Year's resolutions. My husband's New Year's resolution last year was to stop procrastinating. He never got around to it, so he's going to give it another shot this year. This year my resolution is to lose 20 pounds. I attempted weight loss last summer while we were getting ready for our vacation.
My plan was to do yoga. I bought a yoga mat, yoga pants and a yoga DVD. The DVD I bought advertised, "Lose 5 pounds a week!" Now that sounds like the perfect plan; I can lose twenty pounds in a month! All I had left to do was finish off the tub of mint chocolate chip ice cream and then wait on Monday to roll around. You can't start a new fitness program unless it's a Monday; everyone knows that.
So Monday morning, I got up bright and early and plugged in my DVD. Five minutes into it I came to the realization, that I should have chosen the Pilates DVD with the gray-haired woman on the cover, but I didn't want to look like her. I wanted my results to make me look more like some chick named Jillian who promised five pounds of weight loss weekly.
We had planned a cruise around Hawaii with our friends, so I thought I had the motivation I needed to achieve my weight loss goal, but clearly I needed to shift gears.
Yoga wasn't the answer. So, I decided instead of riding in the truck to the feedlot every night, I would walk. And instead of just filling the feed buckets, I would lift and carry them to the troughs.
Pick up the January issue to learn more!