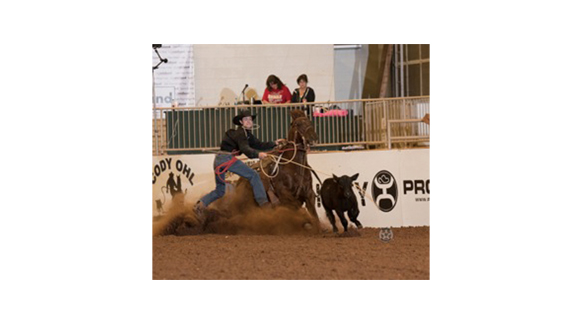 By Ddee Haynes
When I sat down to write this story, the bible verse Jeremiah 29:11 kept popping into my head: "For I know the plans I have for you", declares the Lord, "plans to prosper you and to not harm you, plans to give you hope and a future."
This verse sums it all up for one very talented 15-year-old roper, Chance Thiessen.
Thiessen started his rodeo career about 12 years ago atop his trusty steed Chili Dog.
Even back then, anyone watching Thiessen could see his determination, skill with a rope and a natural ability to ride. Fast forward to Saturday, Dec. 9, 2017. Thiessen and his dad, Kent, were in Las Vegas and the young cowboy was roping in the World Series Team roping. Thiessen had also qualified for the Junior National Finals Rodeo and was scheduled to rope later that week.
Thiessen and his team roping partner were backed into the roping box about to rope their second steer in the second round. Thiessen was the header for this team so his job was to rope the steer and turn him so his partner, the heeler, could rope the back legs of the steer.
Just as Thiessen caught the steer, dallied his rope to the saddle horn and turned his horse left, it happened. The horse, through no fault of his own or anything Thiessen did, tangled his feet and fell. The horse did not simply fall down. Instead, he flipped sideways, like a rollover in a car accident, with Thiessen's head and neck being the first to take the impact.
As Kent and the entire arena of people watched helplessly, the horse and Thiessen rolled. As Thiessen lay motionless on the ground, the horse struggled to get up, and in this scramble Thiessen again took another blow as one of the horse's hooves grazed the back of his head. As Kent ran to his son, he said all he could remember doing was praying.
Kent was not the only one rushing to Thiessens side. Trey Johnson along with a minister of the rodeo world, an EMT and a registered nurse who was attending the event with her team roping husband were quickly by his side. As the nurse and EMT checked his vital signs, Trey Johnson began to pray and lay hands on the still Thiessen. Kent said he had never in his life heard such powerful prayer.
The nurse, who later in a private message to Thiessen's mom, Lindsey, confessed that her initial assessment of Thiessen was not good. Thiessen was struggling to breath, his pulse was very weak, he was non-responsive, and his eyes just did not look normal. As Trey continued to pray over Thiessen, the nurse said she literally felt God's presence and it gave her chills. Amazingly, after the prayer, Thiessen's airway became stable, his pulse stronger and he was responsive to hearing his name. Thiessen then began moving his arms and legs so much, they had to tell him to stop.
Thiessen was not out of the woods yet. He was quickly loaded into an ambulance and taken to the hospital. At the hospital the doctors told Kent the next 24 to 48 hours were crucial.
While the accident was occurring, Lindsey was at home in Elk City, Okla., oblivious to what was happening to her oldest son. She received the phone call from Kent and heard his words "It doesn't look good." Although she still doesn't remember much about the drive from Elk City, Okla., to the airport in Amarillo, Texas nor the plane ride to Las Vegas, she said she was scared but still felt a sense of peace.
Read the February issue of OKFR to learn more!