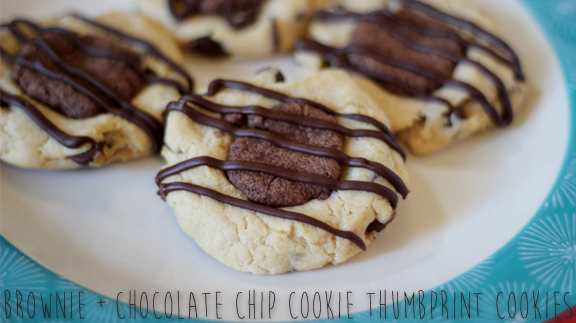 By Lacey Newlin
Brownie + Chocolate Chip Cookie Thumbprint Cookies
Total Time: 30 minutes
Serves: 20-25
Brownie filling
• 1 18.4-ounce package chocolate fudge brownie mix do not prepare according to the mix; follow the instructions
• 3/4 cup unsalted butter melted
Cookie
• 6 tablespoons unsalted butter at room temperature
• 1/2 cup light brown sugar packed
• 3 ounces cream cheese at room temperature
• 4 tablespoons white sugar
• 2 teaspoons vanilla extract
• 1/4 teaspoon baking soda
• 1/4 teaspoon salt
• 1 and 1/4 cups white flour
• 1 cup chocolate chips separated
Optional Chocolate Drizzle
• 1/4 cup chocolate chips + 1/2 teaspoon vegetable oil
Instructions
Preheat the oven to 325 degrees Fahrenheit. In a large bowl, combine the brownie mix and the 3/4 cup melted butter.
Beat until well combined and then place covered in the fridge while preparing the cookie dough.
In another large bowl, beat together the 6 tablespoons butter (make sure it is at room temperature and not melted or you will need to chill the dough) and brown sugar for 2-3 minutes. Add the room temperature cream cheese and the white sugar. Beat until well combined.
Beat in the vanilla, baking soda, salt and flour until a dough is formed. If it is too wet, add in a little more flour until it pulls away from the sides when beating.
Stir in 3/4 a cup of chocolate chips.
Roll balls of dough onto a tray. Press a center indent into each dough ball and then use the remaining 1/4 cup chocolate chips to decorate the outsides of the cookies.
Take out the chilling brownie dough and roll small balls of dough that will fit in the indents of the cookie dough. Press the brownie balls into the cookie until it is even with the dough.
Bake for 8 to 10 minutes (longer for larger cookies) and remove from the oven. I like slightly underbaking these cookies as they lend a very fudgy center and a soft chewy cookie.
Allow the cookies to stand for 2 to 3 minutes on the cooking sheet before transferring to a wire cooling rack.
Top with a chocolate drizzle if desired. Combine the chocolate chips and vegetable oil in a small microwave safe bowl. Microwave in 15 second bursts stirring for 10 seconds in between each burst until the chocolate is smooth
Transfer the chocolate into a small plastic bag and cut off the tip of the bag.
Pipe the chocolate across the cookies and allow to harden.