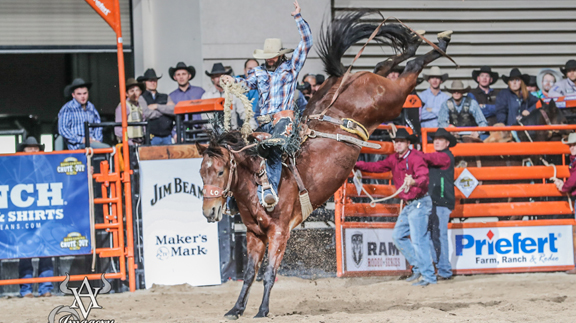 By Phillip Kitts
As the aching heads of rodeo fans, the stiff joints and muscles of rodeo competitors and the weary bodies of contract personnel have made their way home from a long two-week run in the bright lights of Las Vegas, new pages of the history books have been written.
Most rodeo fans know all about the big show that closes out a season of rodeo at the Wrangler National Finals Rodeo. Only the die-hard rodeo fans know how much more goes on starting only days prior to the NFR and all the way through the final round.
You often hear the term Las Vegas turns "Cowboy" in December, as for over 14 days numerous rodeo-based series have their finales. This list includes World Series of Team Roping, Bull Fighters Only (BFO), PRCA permit holders have their top competitors compete for top standings, American Bullfighting wraps up their season and the Youth National Finals bring all their top competitors in each event to crown World Champions.
Along with these major events, Boyd Gaming afforded the opportunity for the competitors who placed sixteenth through twentieth to compete in a chute-out style rodeo. Boyd gaming also invites some of the top names in rodeo that no longer chase the coveted WNFR appearance or due to injury or other interference did not earn enough money to compete a the WNFR.
Nearly every avenue of the rodeo world is covered during this two-week cycle in Las Vegas and numerous World Champions are crowned and millions of dollars are paid out.
The Boyd Gaming Cinch Chute Out paid its own collection of big checks during its three-day series of events. This chute-out style rodeo affords eight competitors in each event two days to accumulate enough points to return for the final round. On day three, the top six in each event return for one more round of competition in which the field is whittled down to the top three cumulative scores.
The championship round brings in the top three where all the scores are wiped clean and it comes down to one ride or run for all the marbles. This star-studded event is quickly becoming a fan favorite due to its who's who cast of athletes.
Names in the past that have graced the Orleans Arena have been Joe Beaver, Huntsville, Texas, eight-time World Champion in tie down roping; Cole Elshere, Faith, S.D., three-time WNFR saddle bronc qualifier; Casey Colletti, Pueblo, Colo., WNFR bareback qualifier.
This year showed no change of big names that made the trip to Las Vegas: Fred Whitfield of Hockley, Texas, eight-time World Champion in tie down roping; Kaycee Field of Payson, Utah, five-time world champion in bareback; and the infamous wild man Wade Sundell of Buxholm, Iowa, who brought his saddle bronc riding skills to the arena.
When the dust settled on Saturday evening, Cactus Saddles and Montana Silversmith Buckles were awarded to the chute-out champions. In bareback, Justin Miller of Montana held on through the four rounds to collect the title. The Canadian steer wrestling master Curtis Cassidy collected his share of the riches from the chute out while Jake Orman and Will Woodfin took the title in team roping. In typical Wade Sundell fashion, the saddle bronc title was taken with showmanship and gusto with an event-high score of 90 points.
In tie down, the young Caldwell, Texas, resident Westyn Hughes carried his momentum of a round two win to the overall championship, putting a stamp on a weekend of outstanding roping. The barrel racing competition once again came down to tenths of a second with Kelly Tovar of Rockwell, Texas, edging out Jana Bean of Ft. Hancock, Texas, for the event win. The bull riding event included top PBR and PRCA names such as J.W. Harris of Goldthwaite, Texas; Shane Proctor of Grand Coulee, Wash.; and Stetson Lawrence of Williston, N.D. The final round proved to be the decision maker in which Shane Proctor held out for the eight seconds to be the only qualified ride for the championship round and provided Proctor with the win.
Several WNFR events had nail biting endings to the year while other events were almost wrapped up before the WNFR rodeo even began. Here is how the championships broke down.
Winning the all-around (competed in two or more events, either timed or rough stock events throughout the year) with a year-end total of $341,560.29 was Tuf Cooper of Decatur, Texas. In bareback, Tim O'Connell of Zwigle, Iowa, closed out 2017 with his second consecutive world title with a year ending $371,415.80.
In steer wrestling, Tyler Pearson of Louisville, Miss., squeezed enough money from the go-arounds to capture the World Championship with a year-end total of $265,457.02. Team roping is split into two parts and awards each portion of the team with their own world championship. This year on the heading side Erich Rogers of Round Rock, Ariz., claimed the title with $265,416.73 and on the heeling end Cory Petska of Marana, Ariz., took the gold buckle with $265,416.73.
Saddle bronc may have provided one of the most exciting close outs of the year with Ryder Wright of Beaver, Utah, and Brody Cress of Hillsdale, Wyo., battling it out to the final two rounds. In the end, 19-year-old Ryder Wright, in only his second year as a PRCA competitor, carried on the family tradition by winning his first world title with a year-end total of $284,938.38.
In tie down, the world title returns to the great state of Texas with the Brazilian phenomenon Marcos Costa of Childress, Texas, as he closes out his championship season with $317,421.33 in winnings. The barrel racing title went to Nellie Miller, who carried home $308,498.29 for her season's haul. Last, but not least, Sage Kimzey of Strong City, Okla., continued his dominance of the world of pro rodeo bull riding with his fourth consecutive world title where he collected $436,479.19 for his 2017 season.
Other notable championship awards given during the Boyd Gambins Chute-Out week in Las Vegas, Bullfighters Only (BFO) Roughie Cup was awarded to Tanner Zarnetsky of Texarkana, Texas, and the BFO World Championship was awarded to Weston Rutkowski of College Station, Texas.
American Bullfighters awarded their championship to a young superstar of bullfighting, Noah Krepps of Jasper, Ark., who not only won the American Bullfighting title but also finished second at the BFO championships. Noah fought eight bulls in eight days, winning in six of the eight rounds between BFO and the American Bullfighting series.
Once again, December in Las Vegas proved to be historical in many ways. Now the rodeo world will take a short breath and recover before the race gets intense for the 2018 season.