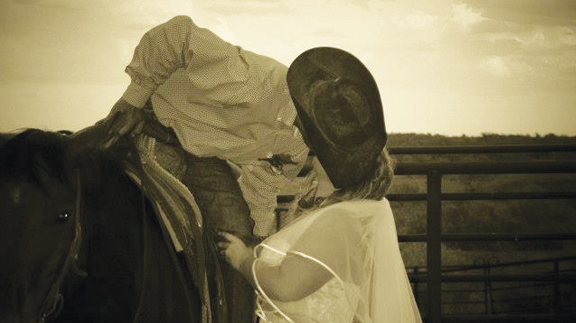 By Lanna Mills
It is February, which means that love is in the air, and Valentine's Day is near. This month we are reminded to show the ones whom we love just what they mean to us. Retailers urge us to buy our loved ones candy, jewelry, flowers, and other gifts to show our affection.
While this is thoughtful and kind, I thought it would be nice to learn from couples who have held on to each other for many years. Just what is the secret to a lasting relationship? What, if any, are their Valentine's Day traditions? What are some of the challenges ranching couples face that others do not? I asked these questions to several couples who have long-term marriages.
What is the secret to a lasting relationship?
It turns out that there is no one secret, although almost all of them mentioned communication. We must communicate with one another, or we will have no idea what the other is thinking or what they are needing. The trick with communication is finding a way to communicate without fighting. Let's face it: all couples argue and disagree, but it is being able to reconcile and work through issues together that builds a stronger relationship.
Along with communication, laughter, kindness, respect, time for one another and support are some other secrets to a long and happy marriage. Our spouses can drive us crazy at times, but we must remember to let them know that we love them. When we fell in love and were married, we promised ourselves to one another. We promised to be there for each other through good times and bad including the inevitable hard times, heartache and pain. In these times we must turn to each other, be there for one another, and remember that with all the bad, there is even more good.
What are your Valentine's Day traditions?
Many couples choose to go out to eat at a nice restaurant for Valentine's Day. Sometimes going out isn't an option. In this case some choose to stay in and cook their significant other's favorite dish, enjoy a movie, go horseback riding, or just go feed cattle together. Some feel that Valentine's Day is a silly holiday made up by retailers for nothing more than a day of big spending. Whether we choose to celebrate Valentine's or not, we need to remember to show our husbands, wives, boyfriends, girlfriends, and all those we hold dear that they are cared for and loved, not only on Valentine's but every day. We never know what the future holds for us so we need to take advantage of what we have and cherish it for as long as we can.
What are challenges ranching couples face that others may not?
Ranching is a 365 day-a-year job, and our lives revolve around the ranch and our livestock. Something always needs to be done, and planning is almost always a waste of time. We can plan all we want to, but just because you have planned a nice date doesn't mean it will get to happen.
Someone will call and tell you that you have cattle out or a heifer will decide to calve. Then your dinner date turns into a date involving putting cattle back in and fixing fence or pulling a calf. Financial challenges may also come along with ranching. The market could crash, sickness could spread through your herd or drought could ruin the grass and dry up all your creeks and ponds. Ranching is a gamble, and nothing is guaranteed.
Marriage is a partnership of two people working together, giving all they have to each other and loving unconditionally. Giving up sometimes seems like an easy way out and has become common. Love and marriage can be hard, but most things worth having are. Finding time for one another and having a common dream are very important.
My husband and I love ranching and neither would want any other lifestyle. We have faced many challenges and difficulties. We have had very bad times, and we have had very good times, but most importantly through both we have had each other. I am no expert on love or marriage, but I hope that these secrets from those couples who seem to have it all figured out will help. I love my husband, our son, our lifestyle, and the life we have made for each other, and I hope each of you find happiness and love. Happy Valentine's Day!