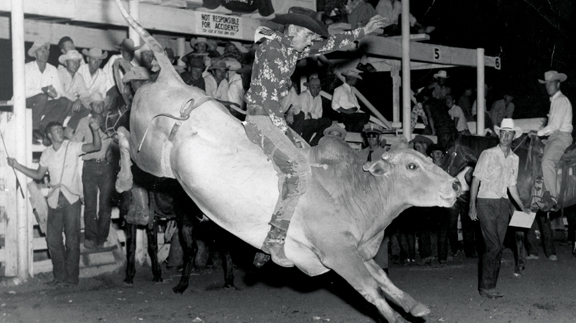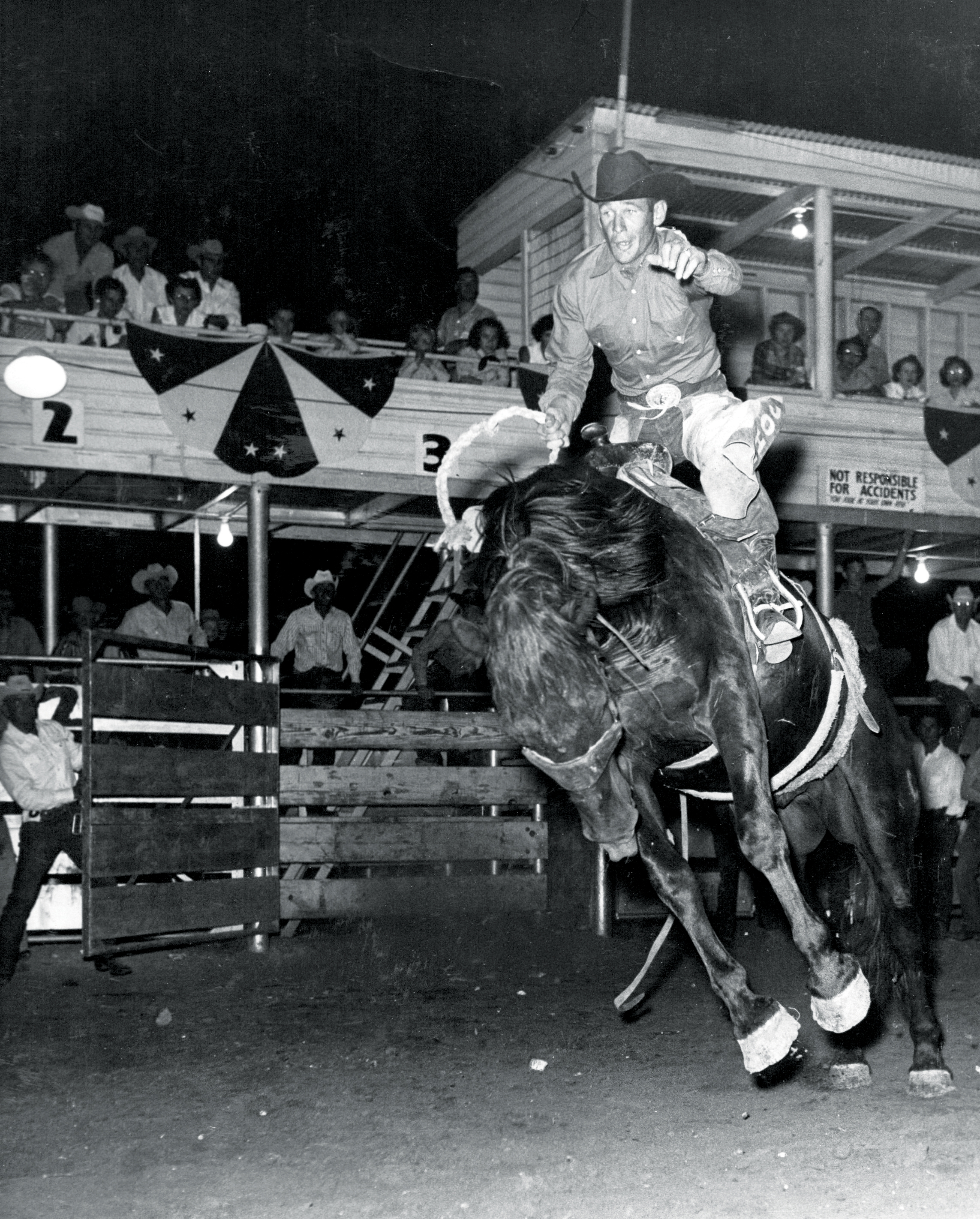 John Farris
By Judy Wade
John Farris is a name known and respected by rodeo contestants and fans across the country. Farris worked every National Finals Rodeo in one capacity or another from 1967 to 2013.
He staked the barrel pattern for every one of those years, worked as the NFR saddle horse boss for two years, served as the assistant rough stock event chute boss for one year and as the timed-event chute boss for 17 years. He worked the Fort Worth Rodeo for 25 years and has worked as chute boss for the Prairie Circuit Finals for over 20 years, a position he still holds today. He also worked the Clay County Pioneer Reunion Rodeo in Henrietta, Texas, for many years.
"My favorite rodeo would have to be Fort Worth because we got to stay in one place for two weeks, not having to move around," Farris explained.
A Professional Rodeo Cowboys Association member since 1959, he competed in bareback riding, saddle bronc riding, bull riding, tie-down calf roping and occasionally steer wrestling until age 44, although he continued calf roping for several more years. Born in Iowa Park, Texas, in 1928 to B.A. and Eva Farris, he had two brothers and three sisters.
"Sometimes our neighbor's cows would get over on us, and my brother and I would ride them," he said. "All I ever wanted to be was a cowboy. I entered the bull riding at my first rodeo at Jacksboro, Texas, when I was 16. I got a broken ankle and a fat lip that I still have today, but that didn't stop me."
After graduating high school in Iowa Park, he went to work on a ranch in Canadian, Texas, making $45 a month. Then in 1945, he went to work for Wilson Manufacturing for $.60 an hour.
"I decided I could make more rodeoing, and for the next 12 years entered open rodeos before getting my PRCA permit," he related. "I filled it pretty quick."
At Stamford, at the Texas Cowboy Reunion and Rodeo, he met a pretty young barrel racer named Mildred Cotton, and the two were married in 1955.
They "rodeoed for living," even working as a team in the ribbon roping, he added. The couple worked for several stock contractors: Tommy Steiner, Neal Gay, James Harper, Mack Altizer, Scotty Lovelace and Stace Smith, Don Gay, Mike Cervi and others. They were known for running the best rodeos. They never had a problem with pay-offs, and the arena was always clean and safe. The stock was loaded in the correct chute and in proper sequence. Mildred became one of the most sought-after secretaries in the rodeo world.
"We had a rodeo in Dallas at the Cotton Bowl the day after the Texas-Oklahoma football game," Farris laughed. "We were bringing in stock as the crowd was leaving, and one of the bulls jumped out. He scattered people in all directions, but no one got hurt. We turned out another bull to try to lure him back, but that one came back to the pens, and the other one ran into a thicket of trees and we finally caught him."
At the time, Beutler Brothers owned a bull that had been out 170 times and not been ridden.
"I rode him in Vernon in 1960, the first to make the eight seconds," he explained. "Steiner had another one that had not been ridden. I rode him and won All-Around at Shreveport, La., in 1960."
Read the February issue to learn more!