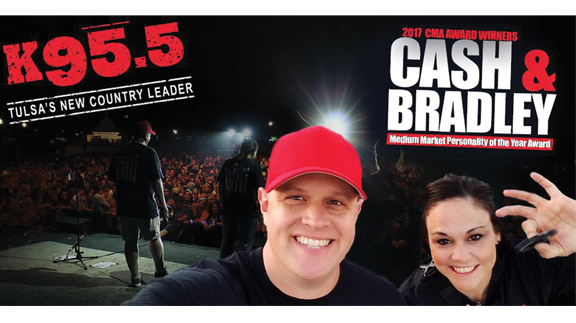 Cash & Bradley – CMA Medium Market Radio Personalities of 2017
By Jan Sikes
When the Country Music Association announced the Broadcast Awards for 2017, Tulsa radio personalities Natalie Cash and Matt Bradley floated on Cloud Nine.
They won the radio personalities of the year award for medium market radio stations across the United States. Cash and Bradley provide a special brand of entertainment for the morning show on K95.5 FM in Tulsa.
What is it that sets your radio show apart from others across the United States?
"Community service, by far," Cash said.
"We just wrapped up a big promotion with Natalie Cash living in a parking lot to get donations of bicycles for kids for Christmas," Bradley explained. "Our goal was 955 bikes because we are K95.5, and at the last count, we were up to 1200 bikes. Luke Bryan donated ten bicycles, so we get a lot of support from the artists."
"And this is just one example. We cover everything," Cash said. "We do a football Friday thing for the high school; we do things for soldiers, First Responders on the first Friday of every month. We are huge supporters of St. Jude Hospital. We cover everything from A to Z, and we believe this sets us apart from other radio stations. Anyone can spin the records."
Cash and Bradley have been working as a team for three years. They were both born in Tulsa and currently reside there.
Bradley also serves as program director for the radio station and gets to choose what goes onto the playlist.
What is that process?
"We play newer country music, but we also will get back into older songs like Garth Brooks and George Strait tunes," Bradley said. "It's still just as good now as it was then. But, we don't go back very far—pretty much nothing past the nineties."
Do you incorporate Red Dirt music in your show?
"You know the Red Dirt scene is always interesting here, because they sell out so often, like at The King's Ballroom, Bradley responded.
Their success on the radio has been hit and miss, but right now it seems to be on the upswing. "We've got songs like Aaron Watson's latest, 'Out of Style,' that seems to be connecting, so maybe that's a sign we are heading back in that direction," he added
The humorous off-the-cuff interaction between Cash and Bradley is spontaneous and funny.
"We don't really take ourselves seriously," Bradley laughed.
Pick up the February issue of OKFR!