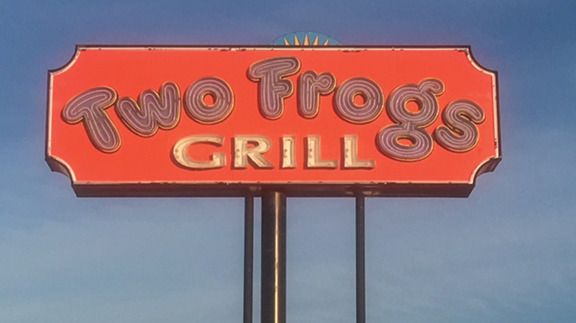 By Kristi Hawks
For this month, my backroad bites adventure is close to home where I meet some friends for supper at the Two Frogs Grill, an Ardmore, Okla., establishment run by a local-area man. My mom and I still drove some backroads into town passing by many ranches and pastures with cattle grazing, a couple of homesteads with some unique artwork and statues in their front yards, the Oklahoma Horseshoeing School and the local Ardmore airport. We might have done some zig-zagging, but as they say, get off the beaten path to see the sights.
After joining our friends at Two Frogs, we were greeted by a nice young man with an open door and smile; as he turned I laughed as I read the back of his T-shirt – it said "Rib-It." We questioned why the restaurant was named Two Frogs. The couple we were dining with were local and mentioned a few stories they heard, but yes, they do serve frog legs and barbecue ribs, so the shirts are fitting.
The walls are covered with framed, signed guitars from the many musical groups that have performed at the restaurant or other venues in Ardmore, Okla. In the restaurant was a large stage area for the performers, and I could picture a live band playing great music to a full house. Take some time to look at all these musical items because there is quite a variety. After getting our drinks, we started with the trio appetizer, which was a combination of cheese sticks, fried mushrooms and fried zucchini. All were great, and it came with all the normal dipping sauces. It's hard to say what the group's favorite item was, but personally I'd recommend the fried zucchini.
The menu has many items including pasta dishes, seafood, "this and that" items with chicken toes, which are actual toes from real live chickens, other more common chicken dinners, steaks, salads, and sandwiches. Reading the menu was entertaining because of all the colorful descriptions. It's noted on their website that their sauces and seasonings are in-house secrets and fresh meats are brought in daily.
All of our meals came with a salad or coleslaw. The coleslaw was just the way I like: a little less saucy. First, as you can probably guess from my past reviews, I ordered the 10-ounce Choice cut ribeye. The waitress offered other ways I could have it cooked like blackened or Cajun, but I opted for the standard charbroiled medium. I ordered the green beans and baked potato to complement my steak. The flavor was wonderful, and the steak melted in my mouth. It is hard to compare the flavorings with other places, but I will say this steak is one I'll go back for again and again.
Pick up the March issue to learn more!