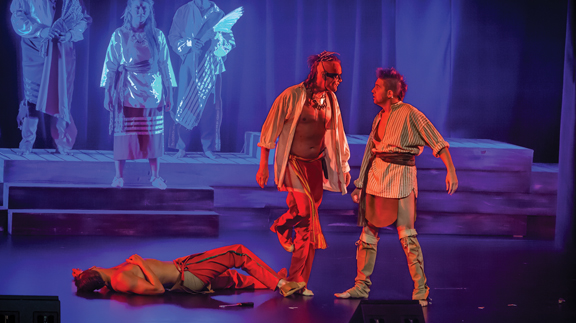 By Jan Sikes
"I started writing songs when I was nine-years-old. I was born to write songs, and I've known that my whole life," Becky Hobbs stated in a recent interview.
Hobbs was born in Bartlesville, Okla. When she was in high school, she formed the first all-female rock band in Oklahoma, The Four Faces of Eve. She went on to have quite a successful career in country music with many of her songs gaining popularity through her own recordings as well as other artists.
Her latest musical project combines her consummate songwriting prowess with a deeply personal and profoundly historic story.
Nancy Ward (Nanyehi) is Hobbs' fifth great-grandmother, born around 1738. Hobbs recalls stories passed down through the family.
"I was very fortunate because I always knew I was a direct descendent of Nancy Ward, Nanyehi, through all female lineage except for my great-grandfather, Richard Taylor Parks who came to Indian territory in the late 1800s. He was a horseback preacher man and hailed from East Tennessee," Hobbs said. "Cherokee society was female driven. It was matriarchal; it was matrilineal. When a baby was born, he or she was born into the mother's clan. The Cherokee women made the most important decisions, like when to go to war.
"In fact, in the 1700s, the whites dubbed the Cherokee tribes as The Petticoat Society. In Nancy Ward's day, she represented the Cherokee at many peace negotiations. The whites were always amazed that they would let a woman speak for them."
Hobbs has extensive knowledge about her beloved Cherokee tribe and is prolific in the language.
"When I was a little girl, my mom would tell me a story that intrigued me," Hobbs continued. "Nancy Ward was around 17 years old. Her husband, Kingfisher, was battling the Creek Indians at the Battle of Taliwa in 1755. She was beside him, chewing the bullets, giving them ragged edges to make them more deadly. Kingfisher was killed, so Nanyehi took his rifle and led the Cherokee to victory."
That act earned Nancy Ward a high status within the tribe. She was honored as War Woman, headed up the Women's Council to determine the fate of captives, and she became Nanyehi – Beloved Woman of the Cherokee.
What inspired Hobbs to honor her fifth great-grandmother?
"There are 18 songs in the musical, and I wrote or co-wrote them all," she added. "The interesting thing is that in 1993, I got all fired up to do a music album to pay tribute to Nancy Ward, so I wrote a handful of these songs back then. That was the year that David Hampton in Tulsa established the Association of the Descendants of Nancy Ward. They were looking for a theme song, and I wrote 'Let There Be Peace' and 'Pale Moon' that year."
Read the March issue to learn more!