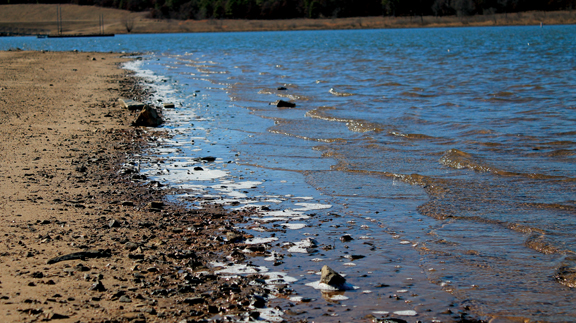 By Laci Jones
As the warm season makes its way across the Sooner state, Oklahoma state parks are a haven for Oklahomans looking to get outdoors. On the southwest side of the Ouachita Mountain Range lies a state park dedicated for relaxation and recreation. Located east of Atoka, Okla., McGee Creek State Park has approximately 18,900 acres full of various wildlife for visitors to enjoy.
The U.S. Army Corps of Engineers and Bureau of Reclamation built the McGee Creek Lake in 1987. The 3,350-acre reservoir is ideal for those who enjoy boating, skiing and other water activities. Lighted and unlighted boat ramps are located throughout the state park. The state park has 64 miles of shoreline for visitors to enjoy. The beach is open from 6 a.m. to 11 p.m. They do not have a life guard on duty and alcohol is permitted.
McGee Creek State Park is also known for its wide variety of fishing opportunities including small mouth bass, perch, catfish, crappie and bluegill. Some of the largest bass caught in Oklahoma were caught at this state park. The Buster Hight area has a lighted fishing dock as well as a covered fishing dock for convenience.
Located nearby is the McGee Creek Natural Scenic Recreation Area, which features 8,900 acres of wilderness. The recreation area is on the northeastern side of the lake and was established with the purpose of being a quiet water zone, a wilderness-type recreational experience, non-motorized activities and preservation of natural and cultural resources.
This area is known for its 25 miles of trails for biking, hiking and equestrian use. A permit must be purchased before camping in this area, which is located at the permit station at the entrance of the McGee Creek Natural Scenic Recreation Area.
Campers have the option of occupying one of the 200 primitive campsites or 41 semi-modern RV sites. Located at Buster Hight and Potapo Landing Areas at the state park, the RV sites are equipped with water and electricity. "Comfort stations" are also available throughout the park, which include showers.
Visitors can also rent one of the eight lake huts that overlook the lake.
The state park also offers a covered pavilion for all large events. Located at the Buster Hight area, the pavilion accommodates up to 60 visitors.
For all visitors' needs, the gift shop is conveniently located at the state park. For additional information or to reserve a lake hut or pavilion, call 580-889-5822.