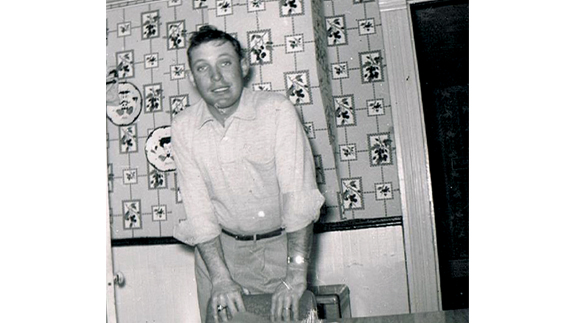 By Ralph Chain
I've had some pretty interesting experiences in my acquaintance with Jake Graham. At one time we use to feed sheep. Jake ran a feed grinder for George Kech. He would grind hay for our sheep operation.
Sue, Jake's wife, had inherited a large ranch east of Bouse Junction, Okla., when her father died. They wanted to stock this ranch with cattle. Jake came to grind feed and told of hearing about this really good herd of Angus cows for sale in the sand hills of Nebraska. Jake and Sue were wanting to look at the cows and probably try to buy them to stock their ranch. They needed a partner because there were more cows than they needed. Jake wanted to know if we would be interested in buying these cows with them, so Jake and I drove up to O'Neill, Neb., and looked at the cows.
They belonged to Alfred Drayton. He was building this herd up for a long time. They showed these calves in Chicago at the International Livestock Show and did well. The calves off of this group of cattle were sold to Eli Peterson and Bob Letkey in Truman, Minn. The Peterson's bought the calves from the Drayton's for several years.
When Alfred Drayton decided to sell out the herd, a fellow by the name of Dale Hewitt, a cattle dealer who was sending the Drayton calves to the Peterson's and Bob Letkey in Minnesota, contacted Jake and I.
He wanted to know if we would be interested in selling the calves off of this group of cows to the Peterson's in Minnesota when the calves got ready to wean in the fall. We said we might be interested. He said that they also might be interested in our other calves.
We bought this group of cattle and sent them to Oklahoma and split them up. There were about 300 commercial Angus cows and about 50 or 60 registered cows. We bought everything that he had — yearling heifers, bred heifers, his registered herd — we bought the entire group. We split the commercial cows up, and kept the registered cows together as a partnership and ran them on land south of Fairview that Jake's mother owned.
The Peterson's wanted to come and look at our calf crop, so Lee and his dad and Bob Letkey, flew to Oklahoma. We picked them up and showed them around, and they bought the calves, plus other calves.
We became well-acquainted with the Peterson's and the Letkey's and dealt with them for several years. They bought our calves every fall, and we shipped them to Minnesota. They visited us, and we visited them. It was a real good relationship between us and the Peterson's.
A fellow by the name of Frank Bringham had a flying service and sprayed weeds and brush for us.
He said, "If you ever want to go anywhere just call us, we've got a Cessna 172, and would be happy to fly you." He said, "You've done so much business with us, it won't cost you anything."
It was late summer, and my dad was still alive. We decided to go to see the Peterson's in Minnesota and look at the cattle and see if they were interested in buying our calf crop again that fall, and, also, go on in to Canada and go fishing.
I told my dad about our plans and told him we might do this. I told him that Frank Bringham would fly us for nothing. That made it all the more interesting to him, because he was going to get a free trip out of the deal. We decided to get Frank to fly us to Canada and fish for three or four days. I made the arrangements and called Frank and told him what we wanted and asked him if he would be interested. He said he would be happy to go.
On a Sunday night he called and said he couldn't go. He was the chairman for the hospital board at Geary, and they planned a meeting so he couldn't fly us, but said his son, Davey, could fly us if that was all right. I knew that Davey had been flying one of the spray planes and I figured he was a guy about 24 or 25 years old. I said, "That's fine as far as I'm concerned, he's a good pilot." Frank asked me how big we all were. I told him we were all pretty good size. He thought his 172 plane might not be big enough so he was going to borrow an airplane from his mechanic who lived in Elk City. It was a Beech Bonaza, which was bigger and flew faster. He said we could take that plane instead of his smaller one. So we made the arrangements, Davey was going to meet us at the Fairview Airport Monday morning. We gathered up our suitcases and fishing tackle. My dad, mom, Darla, and I had all went to the Fairview airport. Jake and Sue were there. The wives were going to see us off on our trip.
We were supposed to meet the pilot of the plane about 8 a.m. We went to the airport and waited and waited and waited. He was about 45 minutes to one hour late. When the plane finally came in and landed, it looked like a fairly decent airplane. We were standing on the runway with our suitcases and fishing tackle ready to leave.
The plane taxied up to us, the door opened, and the pilot got out. The pilot was a kid, about 15 or 16 year old, we were dumbfounded. My dad began to swallow and began to have mixed emotions.
We didn't know what to say. We didn't want to tell him that we were afraid to go with him. So, we walked around the airplane and kind of discussed things to his back. We discussed whether we ought to go with this kid or not.
I know he wasn't over 16 years old, but he had flown spray planes because he had sprayed for us. When he was spraying, I didn't know how old he was, but I just figured he was 25 or 26 years old. Here he was, this 16 year old kid, and we debated.
My dad walked up to this kid and asked, "Are you sure you can fly this airplane?" And this kid said, "Well, yeah I think I can fly it." That didn't help matters any. He didn't act like he was really sure whether he could fly it or not.
My dad asked. "Have you flown this before?" This kid said, "Well, no not really, this morning was the first time I had flown it." We didn't know what to do. We decided maybe the Lord would be with us, and we would go. So, we put all of our stuff in the plane and took off.
Read the March issue to learn more!