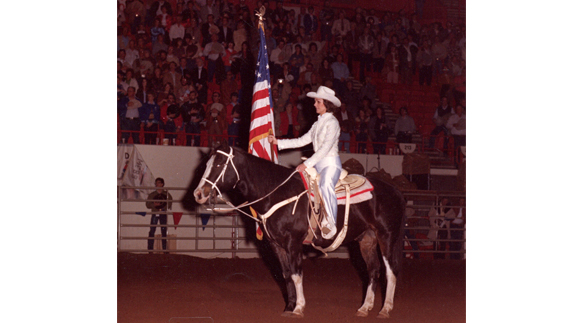 Mildred Farris
By Judy Wade
"The prettiest picture was when Mildred carried the American Flag and Clem McSpadden read the Cowboy Prayer at the National Finals in Oklahoma City," said Donna McSpadden, wife of the late Clem McSpadden, long-time announcer at the National Finals Rodeo, in a tribute to Mildred Farris. "She always wore her white suit with a rhinestone vest that sparkled in the spotlight."
Farris carried the flag in the opening ceremonies of the National Finals Rodeo in Oklahoma City for 17 years and one time at the NFR in Las Vegas in 1997 for the opening of the Cowgirl Hall of Fame.
Mildred Lois Cotten was born in Andrews, Texas, in 1933, the daughter of W.B. and Blanch Cotten, where she fed cattle from a jeep and worked on the ranch alongside the cowboys. She attended Andrews High School, graduating in 1951.
She obtained a bachelor's degree in physical education from Sul Ross in Alpine, Texas, in 1955 where she was a member of the rodeo team. She had met John Farris at the Texas Cowboy Reunion Rodeo in Stamford, Texas, and the two were married in May of 1955.
Farris joined the Texas Barrel Racers Association, the largest barrel racing group at the time, and won the championship in 1955, 1956 and 1957. In 1958, she joined the Girls Rodeo Association that later became the Women's Professional Rodeo Association.
At San Antonio, her first rodeo after joining the GRA, Farris bested the field, winning first. She served as director, vice president and president of the GRA from 1965 through 1971, carrying card No. 1. She implemented the five-second penalty for knocking down a barrel, which had previously been a no-time, and was instrumental in getting barrel racing included in the National Finals Rodeo.
"I first met Mildred at a junior rodeo in Post, Texas, where we were both running barrels," said Girls Rodeo Association All-Around World Champion, Florence Youree. The two became friends, competitors and neighbors in Addington, Okla. "We lived a half mile from each other and saw each other every day when she was here. We traveled together when our husbands couldn't go. We both had horses that fought the trailer, and we knew how to drive around curves."
"I called her one day to go to Ponca City with me to pick up a horse. That was back when we pulled horse trailers with our cars. On the way, the tail pipe fell off the car. We stopped, and Mildred said, 'I can fix that.' She took some wire off a fence, crawled under the car and wired the tail pipe back on, and away we went," Youree laughed.
"Mildred loved carrying the flag, and she did it so graciously. She was one-of-a-kind, a true person, a true friend, and I loved her like a sister. Everybody loved her, especially the rodeo cowboys when she was secretary. She was a quiet person unless you made her mad."
"She was a very nice and kind lady," World Champion Steer Wrestler Mickey Gee agreed. "Fifty cowboys could be trying to enter and firing questions at her, and I never saw her get upset."
"She was always good at holding checks [not depositing a check until she was sure the cowboy had the money] when needed when she secretaried," said PRCA bull rider, Bobby Del Vecchio.
Pick up the March issue to learn more!