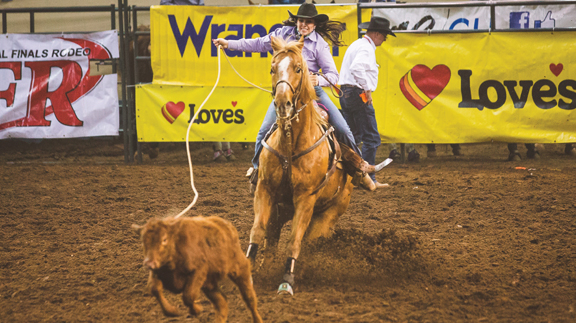 By Ddee Haynes
If you were to peek inside the kindergarten classroom of Miss Cassie Vaughn, you would see a petite young woman with piercing blue eyes, a quick easy smile and a calmness beyond her young years. But what you cannot see is that just below the surface is a true-blue cowgirl who can easily handle a horse and is wicked with a rope.
Originally from Ottawa Lake, Mich. Cassie came to Oklahoma on a rodeo scholarship to Rogers State University in Claremore, Okla. Cassie rodeoed for Rogers State for a year before transferring to Southwestern Oklahoma State University in Weatherford, Okla.
Upon college graduation Cassie began her teaching career in Canton, Okla., where she taught for a year before taking a job in Elk City, Okla. After two years at Elk City Elementary School, Cassie moved to Drumright, Okla., where she spent a year at Olive Elementary.
After a year in Drumright, Cassie realized western Oklahoma was where her heart yearned to be, so she loaded her horses and belongings and moved back west. Cassie currently teaches at Burcham Elementary, Weatherford, Okla.
Cassie is right at home at Burcham and her students absolutely adore her. For the past two years the entire elementary school celebrated and cheered her on before and during her qualifications to the International Finals Rodeo finals. Some of her students and parents have even attended the finals to cheer her on in person.
Cassie's giving spirit does not end in the classroom. She has been a volunteer for the past several years at the annual Camp of Champions Christian Rodeo Camp, in Sayre, Okla. Cassie is a great go-to person when young aspiring cowgirls are needing a little "tune-up" on their rope swing and/or horsemanship. She has a way of relating and relaying tips to the girls.
Cassie has worked hard the past two years, traveling on the weekends to rodeos across the country to earn her spot at the IFR held each January in Oklahoma City. Only 15 of the top money earning contestants can compete during the three-day, four-performance rodeo finals.
The qualifying events are bareback riding, steer wrestling, team roping, saddle bronc riding, tie down roping, barrel racing, bull riding and Cassie's event, ladies breakaway roping.
The first performance is Friday night, and performances two and three are Saturday afternoon and Saturday night. Sunday is the final performance.
After all four of the performances are complete, the scores or times are added together. For the speed events (tie down roping barrel racing, team roping, steer wrestling and breakaway roping) the times from each performance are added together.
The International Professional Rodeo Association (IPRA) was founded in 1957 by two rodeo promotors. Originally known as the Interstate Rodeo Association, the IRA was formed as a rodeo management organization and a sanctioning body.
Concerned with expansion west of the Mississippi River, this new group's primary interest was to enhance rodeo's credibility with the news media in the east, where fly-by-night rodeos and Wild West Shows and unregulated contests had done much to discredit the sport.
The Interstate Rodeo Association began counting championship points won at its rodeos in 1957 and named their first world champions at the end of that year. Included among the rodeos providing championship points that year was the famous Cowtown, N.J., rodeo, the sport's first nationally televised event.
In 2017 Cassie went into the finals in the fourteenth spot. After catching three of her four calves and winning a round, Cassie ended up seventh overall when all the numbers were calculated. This year Cassie went into the finals in fifth place. She placed second in the first round with a quick 2.8 seconds.
In the second round she missed her calf. In the third round she came back strong with a 3.4. When the final round came back, Cassie roped strong, snagged her calf in 2.8, which would have put her in the second-place spot if not for trouble at the barrier, making her time a 12.8.
When the dust settled, and all the numbers came in, Cassie ended up fourth in the aggregate and sixth for the year end.
Cassie gives so much of herself to others and is a blessing to anyone she meets. She is a true mentor not only to the students in her classroom but to many young cowgirls who are following in her footsteps.
Cassie is truly an example that rodeo moms like me are proud for our girls to follow.