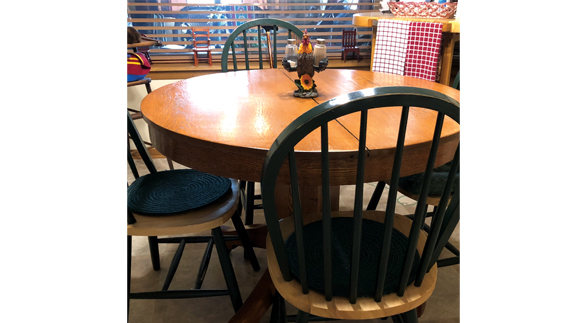 By Beth Watkins
You can tell a lot about a couple by the way they laugh together. My in-laws have been married for 64 years. With a twinkle in one eye and a wink with the other, I heard her tell him if he will behave himself they will make it another year. If the good Lord's willing and the creek don't rise, I believe they will.
Just days after they were married in a little church in McAlester, Okla., he went off to fight in the Korean War while she finished high school. Throughout the years, they raised three ornery boys, chickens, cattle, hogs, horses and a garden. After retiring from successful careers, they traveled with a fifth wheel. Mom and Dad Watkins are the kindest people you will ever meet, so you can just imagine the number of family and friends they have acquired along life's journey.
Everyone who comes to visit with Willie and Ms. Betty are invited to sit at the kitchen table and have a cup of coffee. At first glance you would say it was just an ordinary wooden pedestal table with four chairs, but I see it as the heart of their home. This piece of furniture is so very valuable because of the friends and family who sit around it to share a meal, play a game or work a puzzle. This table is where life's problems are solved, important decisions are made and strategies are developed. It's where you find guidance, helpful tips, and the meaning of life. It's where the mail, newspapers and the Bible are read. It's a place where you recharge and feel loved.
The table itself has a unique story. It is a solid wood table made from an old shipping crate. Underneath you can still see the writing "Krebs, I.T." Krebs is a little community just east of McAlester. If you've ever eaten at the famous Italian restaurant, "Pete's Place," then you've been to Krebs, Okla. Before Oklahoma became the 47th state in 1907 it was known as I.T. or Indian Territory.
Early in their marriage, Willie came home one day and asked Ms. Betty, "How long are we going to eat at this little folding table in the kitchen?" Her reply was simple, "Until I have a round wood table."
Willie, like any other smart man would do, set out to find his bride a table. When he brought the second-hand table home, it was an awful green color. Someone had been using it as a work table; there were rings from paint cans scattered across the top. Willie took it apart and stripped it down and created a beautiful, light oak table. When reassembling this table, he discovered it had to go back together exactly as it was taken apart, so for sure, it originally was built with love and creativity, not from a pattern that was just duplicated. So, like this couple, it's an original one-of-a kind work of art.
Read more in the March issue!