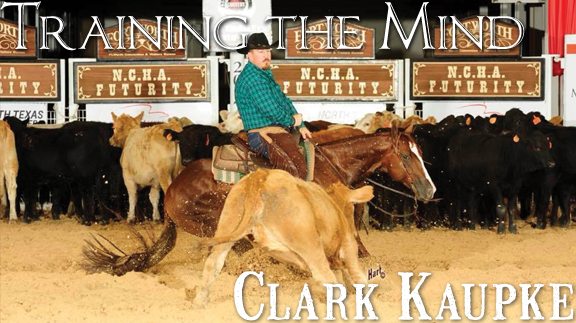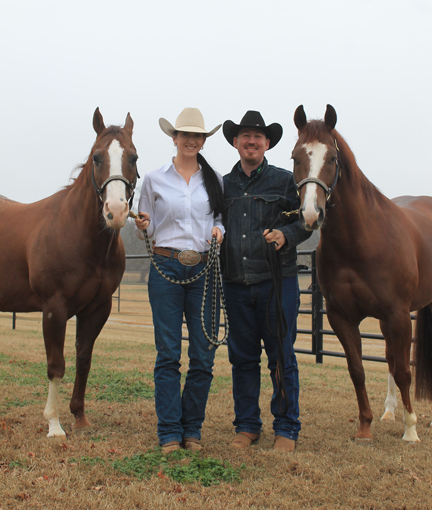 By Laci Jones
Horse trainer, Clark Kaupke recently received some valuable advice from fellow peer Jody Galyean: "You've got to ride every step."
"That doesn't mean I got to do everything for that horse," Kaupke explained. "If we are training their body, they are going to wait for me to tell them what to do. If we train their mind, they are going to do it on their own, but I'm going to be able to help them when they get in a new situation that they need help."
Born in Stillwater, Okla., in 1980, Kaupke's passion for horses came naturally as both his parents rode horses. His father owned a tack business for 35 years and was also an auctioneer. His mother competed in Western Pleasure, and she took him to many shows where he sat atop his first horse named Blackie.
"We didn't live the glamorous life, but we had a nice life," Kaupke said. "We were grounded in our routine. I always rode handmade saddles and wore handmade spurs because that's how our family made a living. I wouldn't trade those kinds of traditions I had with my family for anything."
His uncle Irvin raised multiple world champions in the Western Pleasure discipline in Great Bend, Kan. Kaupke spent much of his school breaks in Kansas learning from his uncle. At 12 years old, he started helping his uncle Irvin by starting his two-year-old colts.
"I didn't have a clue what I was doing," he added.
The tradition of competing in Western Pleasure was passed down to Kaupke. He had a natural ability to learn by observing professionals. He looked up to Jody Galyean, Gil Galyean, Troy Compton and Guy Stoops.
"I also rode with Jess Herd for a long time," Kaupke explained. "They were the guys who were big names in the '90s in the Western Pleasure industry."
Kaupke's family mostly trained their own horses for the arena, always striving to reach the standards of "big name" horse trainers.
"It was a lot of trial and error, but that's what made me the horseman I am today," the trainer explained.
When asked if he always wanted to become a performance horse trainer, Kaupke said he was never exposed to cutting horses, but he assumed he would train pleasure horses. However, his talents exceeded the arena.
His father, Charles Kaupke, purchased a Martin acoustic guitar and played country and traditional bluegrass music. After Kaupke showed interest in the instrument, his father bought him a guitar when he was 11 years old. His skills evolved, and he attended South Plains College in Levelland, Texas, to pursue a degree in commercial music.
"I didn't have any interest in going to college for an ag degree," he explained. "I thought this would be a chance for me to pursue the other thing I love besides horses. It was good for that time in my life because I didn't know how to speak for myself, so I could do it with the guitar."
When he graduated with a bachelor's degree in 2002, Kaupke followed in his father's footsteps in the tack industry by moving to Weatherford, Texas, working for Cowboy Tack. He was also playing guitar for Aaron Watson, but they parted ways in 2003.
"He's a great guy, but it just didn't fit into my life at that time," Kaupke explained.
Kaupke continued to work with horses in his spare time. In August 2003, he attended the National Cutting Horse Association Summer Cutting Spectacular in Fort Worth.
"They have the Sponsor's Cutting for the corporate sponsors of the NCHA," he explained. "Each corporate sponsor nominates two people who get to come ride a cutting horse and show in the big coliseum."
Kaupke was chosen to ride for Cowboy Tack, where he cut on a horse trained by Teddy Johnson. He never rode a cutting horse before, but he felt at home as soon as his hands touched that cutting horse.
He left Cowboy Tack in early 2004, taking a job with Teskey's in Weatherford, Texas. Throughout his career changes, Kaupke never lost his desire to cut.
"I always seek God's will for my life, but I've not always followed his path," he added. "It's not easy as I get a little bit off-center. But at the end of the day, that's where I am headed, that's what I strive to do. Even when I was 20 and didn't have a clue what I was doing with my life, that's what I was seeking deep down even if I didn't know how to put it in the same context I do at 38."
He later went to work for J.B. McLamb for almost two years, where he said he learned how to be a "true horseman" and have good work ethics. Then, Kaupke's life changed when he had health issues with his diabetes in the late 2000s.
"Diabetes burnouts are a real thing," he explained. "I wasn't taking care of myself, and I gained a lot of weight. I became very unhealthy and was in a bad place in my marriage."
After his divorce in 2009, Kaupke went back to music. He hit the road full-time, touring with a few different bands. Four years later, he was looking for another gig, but he did not find the right fit. He prayed to God to point him down the path he was supposed to be on.
"When the day came that I was supposed to quit, I knew," he recalled. "I picked up the phone and called my dad and said, 'I'm done.' When he knew that I was done, he asked, 'What are you going to do?' I said, 'I'm moving back to ride horses.'"
Kaupke started riding horses for Bruce Morine, but getting back into the cutting horse industry proved to be difficult for the Oklahoma native.
"It was hard getting back into it—the physical aspects and the mental aspects of it," he recalled. "Bruce is a great Christian man, and I respect him. He was very hard on me, but I'm thankful now looking back, and I still look to him for guidance."
Read more in the April issue of OKFR!