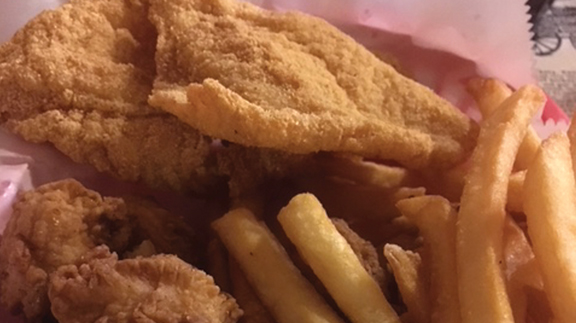 By Kristi Hawks
My backroad bites this month was west of home to Waurika, Okla. On this day, I enjoyed the break in winter while traveling across the countryside toward the Red River.
I saw pastures filled with horses, cattle and newborn calves running around, common things in southern Oklahoma.
The soil around the ponds and ditches turned to a redder tint as I went west. I even saw a road runner cross the road and wondered if Wile E. Coyote was near, but I know that's only in the cartoons.
When I got to town, I drove through the main street of Waurika and found a couple of local stores to stop in and shop that had local artists' items to buy.
I asked the locals for suggestions of places to eat, and Bill's was mentioned. I traveled to the Red River to see the old bridge that is being replaced and found Bill's. It was a house-looking building on the north side of Highway 79.
As I entered the restaurant, it felt like I was entering a family home. I could tell they have busy times because the entrance had a large waiting area for their more crowded times.
Since it was mid-afternoon, I had no trouble getting in and finding a booth. The inside was just what you'd expect of a family dining place: tables and booths with friendly servers ready to get you a drink and take your order. During my visit, several people came in and were greeted by name, and it was obvious Bill's gets a lot of repeat customers.
The menu was what you'd imagine from a fish house: fish, more fish in combinations and baskets, scallops, shrimp and a few items unique to me, but probably common to native Oklahomans, like steak fingers, chicken livers and gizzards, frog legs, oysters and calf fries.
The dinners were listed as individual items, or they offered "Bill's Baskets" that let you mix and match your seafood, chicken and beef into a variety of combinations. Most meals came with fries, coleslaw and hushpuppies, but they offered other items you could order under the "Extras" section of the menu.
As the waitress brought my tea, I ordered a combination of fried catfish and calf fries. Growing up on a farm in Iowa that had grain crops, cattle and hogs, yes, I do know what calf fries are and ate them before, but it's been a long time.
I wanted to try them now to see how they were cooked, tasted and determine if my "phobia" of eating them has changed all these years later.
My server brought hush puppies (not the typical round ones I'm used to, but long fried ones), coleslaw and pickles. The hush puppies were very tasty and not greasy at all. The coleslaw was made just the way I like it, not too juicy but a good mix of the slaw and creamy dressing, and all it needed was some pepper for my liking.
After just a short wait, my food came. I got a basket full of fried catfish, calf fries and French fries.
Read the April issue to learn more!