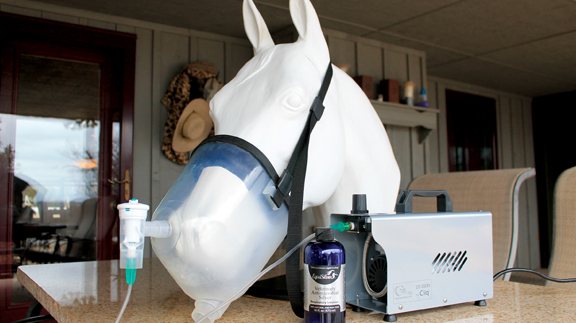 Oklahoma woman develops and patents nebulizer
By Laci Jones
Oklahoma native Tonda Collins used her background in the healthcare industry and her knowledge of horses to develop a potentially lifesaving product for horses as well as many other species.
Working as a medical salesman for one of the largest manufacturers and distributors of healthcare products for 15 years, Collins understood how many products are used by both humans and animals. She was the vice president of the animal health division during her last three years at Medline, where she worked with the top veterinarians and universities across the United States.
"My job was to go out, find out what they needed that we could provide, and do it at a much more inexpensive cost than what they were paying," she explained.
Collins analyzed everything from surgical gowns to respiratory products. She found the products used to treat respiratory illnesses were difficult to use and saw a need for a better product in the equine industry.
A representative in Louisville, Ky., informed Collins of a product called EquiSilver, which uses silver.
"Silver has amazing healing powers and has been used for hundreds of years," she added.
A veterinarian who created the silver solution was administering the product to treat respiratory illnesses, which has never been done before. Wanting to see the process for herself, Collins flew to the bluegrass state. It was race day, and the owner used a large nebulizer to distribute the solution.
"It was 50 pounds, cost $8,500 and the mask looked like a black flower pot," she explained. "He was having to put towels around it to make it work."
Collins talked with veterinarians and researched different nebulizers on the market. While nebulization is common for humans, it is used primarily by veterinarians in the animal health industry.
Collins said many veterinarians whom she spoke with knew the value of nebulization, but they disliked the nebulization products on the market because they were too expensive, difficult to use and difficult to maintain.
"They would rather give a shot or give a supplement and move on," she explained. "I realized there wasn't a good product out there that anybody could use that would be affordable for the mass market."
Collins began developing a product to withstand barn conditions while fitting horses of all sizes for the everyday horse owner in 2013. She designed the unit in three parts: mask, compressor and nebulizer product.
Basing her design from an anesthesia mask, Collins knew she wanted the mask to be soft and clear while conforming to any nose size. In her design, the mask has a quick release and is easy to take apart for cleaning.
In the second part of the unit, Collins was challenged to find a compressor large enough to distribute a respiratory solution deep into a horse's lungs.
Read the April issue to learn more!