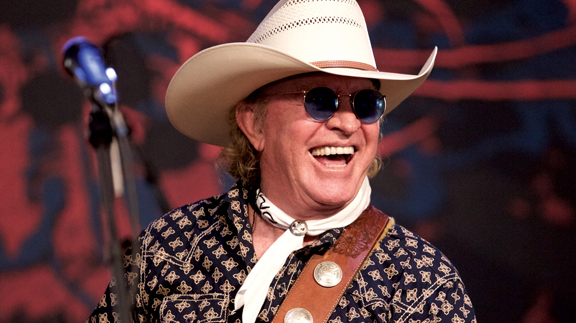 Gary P. Nunn
By Jan Sikes
Gary P. Nunn was born in Okmulgee, Okla., in 1945. No one can dispute the fact that Nunn has been instrumental in the evolving of Texas and Red Dirt music scenes as we know them today.
But, how did he get from the tiny town in Oklahoma to writing the theme song for Austin City Limits, "London Homesick Blues?"
The answers are in his hot-off-the-press memoir, "Home with the Armadillo."
Where does the book begin?
"It starts the day I was born," Nunn said. "My father was the superintendent of a small country school in Eram, Okla. Our old car was broke down, and the only vehicle he had at his disposal was a school bus. So, he drove my mom to the hospital in a school bus."
In his book, Nunn takes us through his childhood where a lifetime of values formed. Academics took center stage with sports coming second. Nunn excelled at both.
He understood the value of teamwork early on, and that served him well in later years. But, the one thing that stood out to me about his childhood was the work ethic that seemed ingrained in his DNA. At the early age of eight, he was working on his uncles' farms during the summer months driving a tractor, baling hay and laboring from sunup to sundown. Family bonds were strong.
Young Nunn had a knack for most anything he tackled. Around this time, his parents insisted on piano lessons. His piano teacher entered her students in a contest at Southeastern Oklahoma State University in Durant, Okla., and Nunn received top honors for his level.
The family moved from Oklahoma to Brownfield, Texas, in 1957 where he entered Junior High School.
In his book, he recalls the talk at school one day about a classmate who'd gotten a new guitar. Even though he didn't know the kid, Nunn made a point to go to his house after football practice to see the new instrument.
"I knocked on Alton's door and introduced myself to his mom. I asked if I could see Alton. I walked into his bedroom, and he was playing this shiny new electric guitar. I was mesmerized and enchanted," Nunn recalled.
As it turns out, the kid, Alton Nicholson, would be a part of the first band Nunn ever played in, "The Rebels," and they won a talent show contest in eighth grade. Nunn played drums.
And, as they say, the rest is history.
I commend Nunn for the detailed way he followed a timeline through the book. He played in a band with Nicholson all the way through high school, then enrolled at Texas Tech University, where he became involved in another band that would lead him further down the path of a music career.
It's been said before, that writing a song is an act of bravery as it reveals a deep part of the writer's soul. I would like to add that so does writing a memoir like "Home with the Armadillo." In this book, Nunn openly exposes his weaknesses, frustrations and struggles as well as notes his innovative ideas and accomplishments.
After transferring from Texas Tech to the University of Texas, the music horizon expanded. Nunn recalled the many different bands he played in and how it was always an emotional and heartbreaking experience when one ended.
It was shortly after one of these heartbreaking events that he packed up his truck, determined to go back to Oklahoma, raise cattle and farm the land, clear his head and figure out exactly what he wanted to do.
But, Michael Martin Murphey was playing in Austin the night before his departure date, and he went to see The Cosmic Cowboy's show. It was an event that would change the direction of Nunn's life yet again. Murphey asked if Nunn would like to play bass in his band. Needless to say, the trip to Oklahoma got postponed.
"That was in 1972, and I had literally given up on the music business. But, it was a whole new ball game with Murphey," Nunn said. "He had a record deal, promoters and was traveling the United States and even the world."
The launch of Nunn's solo career came about quite by accident years later (as did many things in Nunn's life including his marriage).
In 1986, Nunn relocated his wife and son to the family ranch near Hanna, Okla., and from 1986 to 2003, he commuted between Oklahoma and Texas. During this time, his wife, Ruth, decided to create a music festival on the A-O ranch. They called it "Terlingua North Summer Social and Chili Cook-off." Volunteers built a stage and the first year, between 500 and 600 were in attendance. Nunn notes that several up-and-coming artists got their jumpstart through this festival and many give him credit personally for helping to boost their music careers.
Read the April issue to learn more!