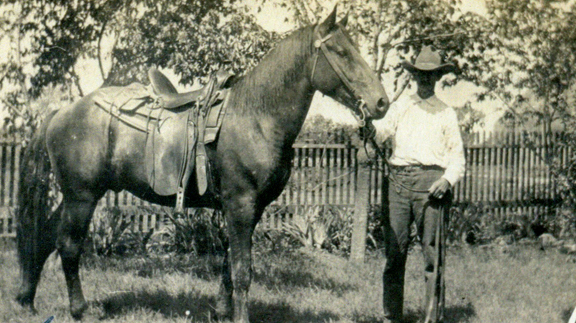 By Judy Wade
When Pinkney Bedford Turner sold land to John Ringling in 1913, he wrote page one in the history of Ringling, Okla.
Mr. Ringling came to the area with the intention of finding a place for winter quarters for the Ringling Brothers Circus. His plan was to build a railroad spur from Ardmore, Okla., to the new site. When he discovered the area was too cold in the winter for his animals, he also discovered an oil boom was impending, and his railroad would be a good business prospect.
Selling Ringling approximately 8,000 acres, Turner retained 10 acres to raise his family, so he wouldn't be "cooped up in town." He continued to be a major player in the history of the area and developed a large ranch in Claypool along Highway 70 between Ringling and Waurika, known as the Ranching Corridor.
Turner was born in 1867 in Kaufman County Texas, moving to Montague County Texas when he was seven. In 1890 he married Effie Lee Johnson.
"Grandad worked at a gristmill when he met grandmother," grandson Ted Tripp related. "Attracted to her, Grandad said he always weighed his portion a little light."
Gristmill owners were paid by keeping a portion of the grain they ground, so he was not charging her as much as he should.
The couple later moved to Indian Territory, near Cornish, where Turner began farming and ranching. He built his home, which still stands today, around the time of statehood. To this union were born six children, with a son dying in infancy. When all the children finished school, with the town of Ringling growing up around them, Turner built a home in the Claypool, Okla., area on land he owned there.
Area rancher Lute Jackson and Turner became partners in the cattle business in 1900 and put together around 20,000 acres in the Claypool area. Turner and Jackson leased some land from the Indian Agency.
Along the leased land was squatter land claimed by Bill Washington, who also has some Indian rights, but he wanted all the land. He threatened some neighbors until they left and is purported to have killed others.
Washington threatened Turner and Jackson.
"When granddad left every day, grandmother didn't know if he would come back, but he always did," Tripp said. "Everyone carried a gun."
In a face-to-face confrontation with Turner and Jackson one day, Washington backed down when he heard the click of a double-barreled shotgun. That area became known as "The Shotgun Pasture."
Washington then hired Jim Miller, notorious contract killer who was said to have killed more men than anyone else in the West, to assassinate Turner and Jackson. Before he could carry out the assignment, Miller and an accomplice along with other two outlaws were captured in Ada, Okla., and hanged in a stable. One of Turner's great-grandsons has a picture of the gruesome scene.
In 1903 Jackson and Turner decided Cornish needed a bank. They contacted the banking commission to find out what they needed to do. When everything was in order, they contacted the commission again and were told one of them could be the president of the bank and the other the vice president.
When the pair revealed that neither could read nor write, they were told they could not run a bank.
A bank employee from St. Louis was hired to run the bank for them and they eventually sold the bank to him.
In 1911, when Turner and Jackson decided to dissolve the partnership on the land so that each might expand and grow in his own business, they sat on horseback and split the property without even using a pencil or paper, trusting the honesty and integrity of the other.
Pick up the April issue to learn more!